Preparing Leaders
Learn how the College of Education is preparing leaders today, to better engage tomorrow's challenges.
Consider giving to the College of Education to help support programs that prepare future leaders.
Preparing award-winning teachers
SDSU graduates Mary Goins, an art teacher at Lakeside Middle School, Khamphet Pease, a math and technology teacher at Wilson Middle School in San Diego Unified, and Maria Teran-Cruz, a 4th-grade teacher in Carlsbad were named among the top 5 San Diego County Teachers of the Year from a distinguished group of 42 district Teachers of the Year. All 3 educators acquired teaching credentials from the SDSU School of Teacher Education.
Additionally, Catherine Caine, a graduate of SDSU's Child and Family Development Program, was named 2015 Teacher of the Year for the State of Hawaii.
These educators join a long list of SDSU grads who have been recognized for their outstanding teaching, including California Teacher of the Year, Alex Kajitani and National Teacher of the Year, Sandra McBrayer.
Preparing system leaders
SDSU's doctoral programs in educational leadership are preparing individuals to lead some of the most important educational systems in California.
In 2015, Joi Lin Blake became President of the Alameda Community College.
Todd Finnell became the superintendent of the Imperial County Office of Education
Reggie Blaylock became the Vice-President for Student Affairs at San Jose State University
All 3 leaders graduated from SDSU's Ed.D. program in community college/ post-secondary leadership.
Also, in June 2015, Karen Janney was appointed superintendent of the Sweetwater Union High School District (the largest high school district in California). Janney is a graduate of SDSU's Ed.D. program in Pre-K–12 leadership.
Currently, at least 22 Ed.D. program graduates are serving as executive leaders in school districts.

COE Graduate becomes VP of Mesa College Student Services
Dr. Ashanti Hands, a Community-Based Block (CBB) Counseling Program graduate who also received her Educational Doctorate in Community College Leadership from COE now serves as Vice President of Student Services at San Diego's Mesa College. [more]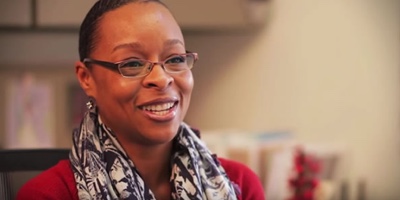 Changing school counseling across the nation
SDSU's School Counseling Program is at the forefront of a national effort to help ensure that school counselors provide leadership that helps ensure that students will enroll, attend, and succeed in post-secondary education. As part of the White House's College Opportunity Agenda and the First Lady's Reach Higher Initiative, SDSU hosted the first West Coast convening of leaders focused on improving school counseling preparation, programs, and practices with the goal of increasing college access for all students. Over 400 representatives from 32 states came to SDSU for this important event.
Building students' capacity to engage in rigorous inquiry on important problems of practice
SDSU College of Education students learn how to pursue answers to important practical problems through systematic inquiry and research. Students in various bachelors, credential, masters, certificate, and doctoral programs learn skills that help them frame problems and address them in ways that lead to deeper understanding and improved professional practice.
Recently, our students had articles published in journals including:
British Journal of Guidance and Counseling
Contemporary School Psychology
Frontiers: The Interdisciplinary Journal of Study Abroad
Hmong Studies Journal
Issues in Teacher Education
Science and Children
Journal for Learning through the Arts
Journal of Progressive Policy and Practice
Journal of Urban Learning, Teaching and Research
Multicultural Perspectives
Multicultural Education
School Psychology Forum: Research in Practice
Preparing secondary school educators through the linked learning lens
SDSU's College of Education prepares high school and middle school educators to teach challenging academic content by linking concepts to practical skills used in real high-demand professions. These educators are prepared to assume leadership roles as they support schools in making academic curricula both rigorous and relevant for students.
Preparing entry-level school leaders to make a difference for students and teachers
The Educational Leadership Department prepares cohorts of educators to assume leadership roles as assistant principals and principals. These educators participate in a year-long fieldwork experience that complements their coursework and requires them to work with teachers, students, and families to improve results for specific groups of students. In 2014–15, 51 students completed this rigorous program and earned preliminary administrative services credentials.
Modeling leadership in local schools
Professors Ian Pumpian, Douglas Fisher, and Nancy Frey, faculty members in the Department of Educational Leadership, model the ongoing pursuit of excellence in urban schools by providing oversight leadership to Health Sciences High and Middle College (HSHMC), a local charter school. While providing a practical site for deepening their knowledge of best practices related to the leadership of urban schools, the school was recently awarded recognition as a California Distinguished School.
With just $25, you can make a gift that will help keep COE leadership efforts going strong.