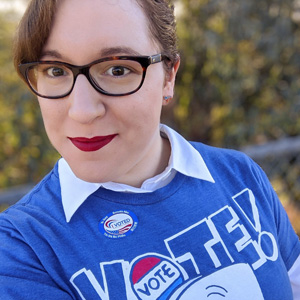 Allie Carter, M.A.
Admissions Support & Office Manager
Office for Student Success
San Diego
Email

Phone

Location

LH-259

Mail Code

1100
Bio
Allie has been an Aztec since 2012, when she started working in University Relations and Development. She supported fundraising efforts for the College of Education, Fowler College of Business, and Regional Initiatives.
Now in the College of Education Office for Student Success, her role involves advising prospective students interested in the teacher credential programs, processing applications for admission, and overseeing the day-to-day operations of the office. She loves supporting students and helping them have a positive experience at SDSU.
Allie is an alumna of the College of Education, where she earned her M.A. in Postsecondary Educational Leadership (Student Affairs) in 2017. Her research efforts focused on military and veteran students and the programs that contribute to their success on campus. She continues to support military students through her volunteer work with the Joan and Art Barron Veterans Center at SDSU.
Allie is originally from Northeast Ohio and loves to follow her Cleveland sports teams. Outside of the office, she enjoys working on creative projects like cooking, writing and hand lettering. She also loves road trips, cold brew coffee, otters, crossword puzzles, diving into a good novel, seeing her favorite musicians in concert, and spending time with her partner and friends.