Idara Essien, Ph.D.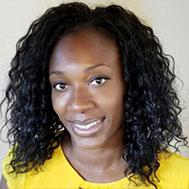 Assistant Professor
Child and Family Development
Contact
Lamden Hall
Room 426 (LH-426)
Mail Code: 4502
Fax: 619-594-5921
Professional Biography
Idara Essien, Ph.D. is an early childhood educator who teaches in the Department of Child and Family Development at San Diego State University (SDSU). Her research focuses on the dynamics between educators and the children and families that they serve. In particular, her work employs counter-storytelling as a lens to illuminate cross-racial dynamics in early childhood contexts. Prior to joining the faculty at SDSU, Idara served as the Cohort Instructor and Facilitator for the bachelor's degree completion program in Early Development and Care for Sacramento State University at Southwestern Community College. She is the owner of a California state-licensed home child care facility and is a mother of three children. She earned her Ph.D. in Education from Arizona State University (ASU). She also holds a M.Ed. in Curriculum and Instruction with a concentration in Child and Family Development from ASU and an M.A. in Bilingual and Multicultural Education from Sacramento State University. Idara holds a B.S. degree in Biology from the University of California – Riverside.
Read More…
Personal Biography
I love exercising! Turbo kickboxing, Body Pump, Body Combat, Yoga and Pilates. I love food - trying out different restaurants, trying different cultural foods. I love spending time with my family, traveling, going to theme parks, and the beach.
Ph.D. Educational Leadership and Policy Studies, Arizona State University
M.Ed. Curriculum Instruction - Early Childhood Education, Arizona State University
M.A. Multicultural and Bilingual Education, CSU Sacramento
B.A. Biological Sciences - Biology, UC Riverside
Multicultural Education
Critical Race Theory
Microaggressions
Counter-Storytelling
Family and Educator Interactions
Girls/Women in the Sciences
Licenses

Family Day Care Home Licenses
CFD 135 - Principles of Family Development
CFD 353A - Parenting the Young Child
CFD 353B - Parenting the School Age Child
CFD 353C - Parenting the Teen and Young Adult
CFD 560 - Theories in Socio-Emotional Development
CFD 598 - Reflective Learning Portfolio