Christine Cortez, M.A.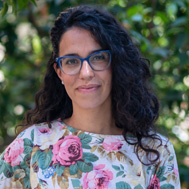 Undergraduate Advisor, Child & Family Development and Liberal Studies
Office for Student Success
Contact
Christine joined SDSU as a graduate student and now serves as an Undergraduate Advisor for the College of Education Office for Student Success. She started her career as an English and Special Education teacher in New York City, before transitioning into a role as a college persistence advisor, where she found her passion for helping students succeed in higher education. As a first-generation graduate she's determined to create a more supportive environment so students are able to reach their academic and career goals.