Jackie D. Fuller, M.A.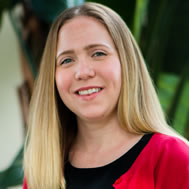 Advising and Recruitment Specialist
Office for Student Success
Contact
Lamden Hall
Room 259 (LH-259)
Mail Code: 1100
Fax: 619-594-1657
Jackie Fuller has worked in the College of Education since 2011 as the Advising and Recruitment Specialist in the Office of Student Services. A large portion of Jackie's job duties includes representing all of the College's many impressive degree, credential and certificate programs at a variety of fairs and recruiting events. If you see her at an event, stop by and say hello! She also assists with creating promotional documents for these programs and coordinating the annual commencement ceremony as well as helping to produce the College's e-newsletter, InformED & InspirED.
Read More…
Jackie's passion for working with college students developed during her time as an undergraduate student at Santa Clara University where she was a Resident Advisor. Her time advising in the residence halls truly helped shape her career path and after graduating with a Bachelor's of Science in Anthropology, she entered the Master's in Education with a specialization in Postsecondary Educational Leadership, Student Affairs program at San Diego State University. Jackie finished her M.A. in 2007 and worked in Housing & Residence Life at New Mexico State University before returning to SDSU in 2009 as a Residence Hall Coordinator. Jackie's many years in university Res Life departments makes her quick on her feet and always up for a challenge!
In her free time, Jackie enjoys spending time with her family, baking cupcakes and online shopping.