Emily Rose Jullié, M.A.
Pronouns: She/Her/Hers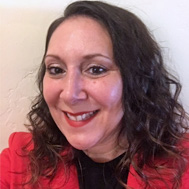 Credential Advisor
Dual Language and English Learner Education
Contact
Emily comes from a multilingual family and has over twenty years of experience as a bilingual educator. She taught English abroad in Costa Rica, Mexico, Argentina, and Brazil, and then Spanish at SDSU. Currently, she teaches DLE 416 or 416L: Biliteracy Foundations of Teaching and Learning. Additionally, she has experience in language testing and rates language proficiency exams for the American Council on the Teaching of Foreign Languages (ACTFL) and for DLE 416´s CAST exam. In her new role as Credential Student Advisor, she will be assisting students with last names (M-Z). Something unusual about her is that she speaks five languages: English, Spanish, Portuguese, French, and Italian (in that order). In her spare time, she enjoys latin dancing, spending time with family, yoga, and organic gardening. When addressing her, please include the accent mark in her last name in both spoken and written communication.