Emily Rose Jullié, M.A.
Pronouns: She/Her/Hers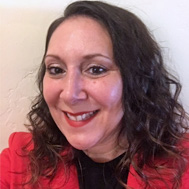 Lecturer
Dual Language and English Learner Education
Contact
Emily Jullié has dedicated her life to language teaching, testing, and acquisition. Graduated with an M.A. in Spanish from SDSU and a B.A. in English from UNC-Chapel Hill, she is also ACTFL OPI and TEFL certified. She gained her teaching experience abroad, teaching English in Latin America in Costa Rica, Mexico, Argentina, and Brazil. Upon return to the U.S., she has specialized as an English language examiner, where she conducts oral proficiency interviews and rates written assessments used for university admissions. Nowadays, her passion for teaching has transferred to Spanish and to helping others develop their own biliteracy skills. She teaches and assesses language for prerequisite course DLE 415: Biliteracy Foundations of Teaching and Learning. Her research interests include the acquisition of romance languages (Spanish, Portuguese, French, and Italian).