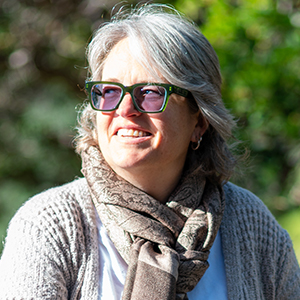 Sonia Peterson, Ph.D.
Assistant Professor
Administration, Rehabilitation, and Postsecondary Education
San Diego
Email

Phone

Location

LH-229

Mail Code

1127
Bio
Sonia's areas of interest are disability policy, recovery-oriented mental health services and evidence-based vocational counseling interventions for individuals with mental illness and co-occurring substance use disorders. She worked for the California Department of Rehabilitation as a counselor for eight years in the Oakland area, a supervisor in San Francisco, and then district manager in San Diego before returning to school to earn her Ph.D. at the University of Arizona in 2014. Sonia has been connected with ARPE and the Interwork Institute since attending supervisor training in 2005. She went on to earn a certificate in rehabilitation administration and was teaching since 2011 as an adjunct faculty member in ARPE before serving in her current role as an assistant professor. She manages the RSA Psychiatric Rehabilitation Project Training Grant and oversees the Concentration in Clinical Rehabilitation Counseling and Clinical Mental Health Leading to the Licensed Professional Clinical Counselor (LPCC).
Publications
Peterson, S. & Alkhadim, G. (2023). Predictors of employment for transition-aged youth with co-occurring substance use disorder and psychiatric disorder in the state vocational rehabilitation service-delivery system. Psychiatric Rehabilitation Journal. Advance online publication. https://doi.org/10.1037/prj0000556
Peterson, S. (2022). Facilitating a warm handoff in state vocational rehabilitation service-delivery. Journal of Applied Rehabilitation Counseling, 54(1). https://doi.org/10.1891/JARC-2021-0019
Peterson, S. (2022). CACREP and the rehabilitation counseling profession. The Rehabilitation Professional, 30(2), 51-70.
Peterson, S. (2022) Metacognition as the result of these steps: How the 12-step recovery model works. The Rehabilitation Professional, 30(2), 39-49.
Mahr, M. M., Maddox II, R. P., Carrier, J., Olson, T., & Peterson, S. (2022). Co-occurring posttraumatic stress disorder and substance use disorders in veterans: Recommendations for vocational rehabilitation. The Rehabilitation Professional, 30(1), 11–24.
Peterson, S. & Saia, T. (2022). Disability, intersectionality, and the experiences of doctoral students. Rehabilitation Counselors and Educators Journal, 11(1). https://doi.org/10.52017/001c.31773.
Peterson, S., Saia, T., Maya Castellanos, A. D., & Olney, M. (2021). Promoting ethical individualized plan for employment (IPE) development with the wellness recovery action plan (WRAP). Journal of Rehabilitation 87(4), 4-11.
Ficchi, G., Saia, T. A., Peterson, S. (2021). Parenting decisions and disability: What rehabilitation counselors should know. The Rehabilitation Professional, 29(3), 129 -146.
Peterson, S. & Olney, M. (2021) Disparities between individuals with and without psychiatric disabilities: Vocational rehabilitation services and employment outcomes. Journal of Rehabilitation, 87(3), 36-46.
Peterson, S. (2021). The interaction of disability status and family income level as a predictor of STEM achievement for youth in U.S. high schools. The Rehabilitation Professional, 29(2), 95-109.
Peterson, S., Alkhadim, G., Davis, M., & Olney, M. (2021). Increasing successful employment outcomes for individuals with psychiatric disabilities with on-the-job training. The Rehabilitation Professional, 29(1), 21–36.
Peterson, S. (2020). Young professionals and leadership development in forensic vocational rehabilitation: Collaboration with rehabilitation counselor education programs. The Rehabilitation Professional, 28(2), 53-62.
Peterson, S. & Olney, M. (2020). An examination of CACREP curriculum standards from a psychiatric rehabilitation recovery model perspective. Rehabilitation Research, Policy, and Education, 34(4), 222-234. http://dx.doi.org/10.1891/RE-19-17
Peterson, S. (2020). Celebrating the role of rehabilitation counseling. Counseling Today, 62(8), 52-56. https://ct.counseling.org/2020/02/celebrating-the-role-of-rehabilitation-counseling/