Americo Yacopi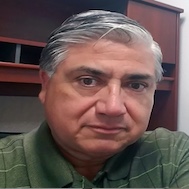 Academic Advisor (Imperial Valley Campus)
School of Teacher Education
Contact
Americo Yacopi is the Academic Advisor at the SDSU-Imperial Valley campus, located about 2 hours east of the main campus in (very!) sunny Calexico, CA. He presently advises for the Liberal Studies major and History/ Social Science major. He has also advised in Criminal Justice, Psychology and Latin American Studies, and has collaborated in organizing the logistics for various campus events like Commencement. In addition, he serves as the IVC's EOP Coordinator.
Read More…
A core component of EOP's presence on the campus is that it sponsors the EOP Learning Center, its main tutorial facility for students. Americo is a Valley native who, like many of the campus's transfer students, attended Imperial Valley College and continued his education at SDSU-Imperial Valley. He majored in Psychology but, after needing some elective classes which he decided would mainly be English, he double majored in English (Single Subject Teaching).
Americo graduated in 1999 Magna Cum Laude with distinction in both Psychology and English, and was selected as Graduate of the Year. During his undergraduate years, he worked as a mentor, tutor, and ambassador. These service-oriented experiences were very valuable to him as he began his career at Imperial Valley shortly after graduation. He is moving into his 19th year as an Advisor. He currently resides with his wife and their grandson (with frequent enthusiastic visits from their children and accompanying grandchildren), and is proudly owned by 3 dogs and 1 cat!