Belén Hernando-Lloréns, Ph.D.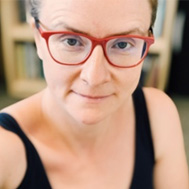 Assistant Professor, IVC
School of Teacher Education
Contact
Dr. Belén Hernando-Lloréns earned her Ph.D. in Curriculum and Instruction from the University of Wisconsin-Madison, under the co-advice of Thomas Popkewitz and Erica Halverson. Her scholarship explores the historical production of racial and linguistic diversity as a pedagogical problem, in the US and in Spain. She is specifically interested in the interplay of discourses of conviviality and bilingualism in the making of educational problems. Her inquiry is situated in spaces of knowledge production that go beyond the traditional classroom space, like educational policy, scientific reports, judicial sentences, media, virtual learning platforms, or the historical archive. Dr. Hernando-Lloréns' research is located at the intersection of curriculum studies, cultural studies, and race and critical language studies in education. Her work has been published in Curriculum Inquiry, Journal of Curriculum Studies, or Bilingual Research Journal.
Read More…
Currently, she is co-editing a special issue in Globalisation, Societies, and Education titled "Conviviality in Education and the Making of Difference". This special issue aims to complicate discourses of conviviality in education beyond harmonious coexistence and conflict resolution in diverse societies to probe the interrelationship of conviviality with the production of difference and (in)equality. She is also working on the manuscript, Citizenship, Difference, and the Limits of Inclusion in Education in Spain: Disquieting Convivencia, where she explores how convivencia works as a technology of modern governmentality in the production of the Other.
Her research has been funded by the Social Science Research Council and the University of Wisconsin-Madison Graduate School, among other institutions. Her dissertation received the American Education Research Association Division D recognition of Exemplary Work from Promising Scholars (2016).
For more updated information of my scholarship, please visit my personal website.
Ph.D. in Curriculum and Instruction, University of Wisconsin-Madison, with minors in Qualitative Methodologies & Gender and Women's Studies.
M. S. [Master] in Teaching Spanish as a Foreign Language, University Antonio de Nebrija, Spain,/li>
B. A. [Licenciatura] in Humanities, University Santiago de Compostela, Spain
Peer Reviewed Articles

Hernando- Lloréns, B., (2020). Participation, technologies of the body, and agency: The limits of discourses of responsible citizenship. Journal of Curriculum Studies, 52(5), 654-672. https://doi.org/10.1080/00220272.2020.1779351
Hernando-Lloréns, B. (2019). Differentiating citizenship, criminalizing diversity: Problematizing convivencia in education in Spain. Curriculum Inquiry, 48(5), 521-539. https://doi.org/10.1080/03626784.2018.1546541
Hernando-Lloréns, B., & Blair, A. (2017). Mexican transnational parents: What they have to say about inclusive education and their children's educational needs. Bilingual Research Journal, 40(4), 392-405. https://doi.org/10.1080/15235882.2017.1383950
Halverson, E. R., Gibbons, D., Copeland, S., Andrews, A., Hernando-Llorens, B., & Bass, M. B. (2014). What makes a youth-produced film good? The youth audience perspective. Learning, Media and Technology, 39(3), 386-403. doi:10.1080/17439884.2012.7062222017

Book Chapters

Hernando-Lloréns, B. (forthcoming). Meditations on Experience: The politics and ethics of "not knowing" in educational research. In Ch. E. Matias (Ed.), Critical Theoretical Research Methods in Education. New York; London: Routledge.
Hernando-Lloréns, B. (forthcoming). The making of the Latino boy as a "problem" of convivencia in education in Spain: A history of the present. In Y. Medina & M. Machado-Casas (Eds.), Critical Understandings of Latinx in Global Education. Leiden; Boston: Brill