Nicholas Johnson, Ph.D.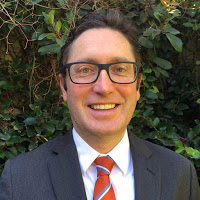 Assistant Professor
School of Teacher Education
Contact
Nick's research centers on how people learn and mathematics education. Nick earned his Ph.D. in education in the division of Urban Schooling at UCLA, where he was a recipient of the National Academy of Education/Spencer Dissertation Fellowship. His advisor was Dr. Megan Franke. He is a former elementary school teacher, instructional coach and county office coordinator, and is co-author of Young Children's Mathematics: Cognitively Guided Instruction in Early Childhood Education. A native of San Clemente, Calif., Nick worked at his college radio station as an undergrad, where he met his spouse and developed an unhealthy obsession with vinyl records.
Ph.D. in Education, University of California, Los Angeles