Videos on YouTube
View a variety of YouTube videos about College of Education programs, projects, and career opportunities.
The fully accredited SDSU Rehabilitation Counseling Program (RCP) prepares students to be effective practitioners, administrators, and leaders in the field of rehabilitation.
CFD student Kiana Caton plans to become an attorney, and eventually a judge. CFD graduates find positions in schools, hospitals, counseling centers, mental health centers, family service agencies, community programs, business and industry, government agencies, and many more.
Hear Kimberly Chhouen, a Child & Family Development undergraduate, talk about her plans to become an elementary school teacher.
Marilyn Lopez-Eguila is a Family Childcare Resource Teacher at AKA Headstart. "It's not just the children but the families that you work with, and the community around the children, and that's what attracted me to this field."
Elizabeth Ettreim is a Developmental Specialist at Rady's Children's Hospital for the developmental screening and enhancement program. "There are so many job opportunities once you graduate."
The CFD master's degree and EC-SEBRIS certificate programs are targeted toward working professionals with classes offered in the evenings. Finish in just 2 years.
An exciting and innovative program designed for those who are inspired to be responsive and innovative K-12 master teachers. This Masters program takes just 1 year and is completely online.
MA & MAT grad students talk about their experiences in these advanced degree programs designed to promote and support learning and development through scholarly reading, study, and exchange of ideas.
Hear from former students discussing their experiences going through a program that prepares highly qualified teachers. SDSU offers over a century of teaching and learning experience.
Students and graduates talk about the success they've experienced because of their preparation in the Bilingual Credential Program at SDSU.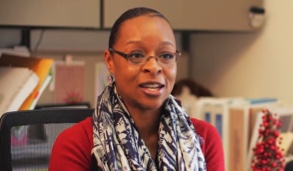 COE alumni Ashanti Hands, Ed.D., is Dean of Student Affairs at San Diego Mesa College. SDSU's Community College Leadership program (CCLEAD) develops leaders who are equity-oriented, strive to understand the inherent complexities of educational systems, and maintain institutional responsibility for critical issues facing America's community colleges.
Sarah Litoski-Jimenez is a Mod./Sev. Special Ed HS teacher. "Aside from Special Ed being very rewarding, it's also a high demand field."