Educational Tools
Find information about helpful online educational tools available to students in the College of Education.
Aztecs Abroad Database
Aztecs Abroad is the SDSU study abroad tool. The first step to researching Study Abroad is to complete your study abroad profile at the Aztecs Abroad database. Once your profile is complete, you can begin searching to find the right study abroad program for you.
Blackboard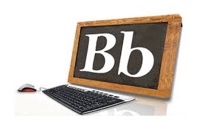 Blackboard is a virtual learning environment. Its main purposes are to add online elements to courses traditionally delivered face-to-face and to develop completely online courses with few or no face-to-face meetings. It allows students to contact their instructor, receive and submit assignments, participate in discussion groups, and much more.
Link to:
Note: If you are new to SDSU, you must enter the SDSU WebPortal and reset your WebPortal Password before entering Blackboard.
Love Library - Available Tools
WebPortal
SDSU WebPortal lets you view admission status check, class schedule and registration, transcripts, official contact information.
MyMap
MyMAP is a feature of the SDSU WebPortal that gives undergraduate students a view of the 4-year sequence of courses required to graduate in 4 years. The tool aligns with the courses offered each semester.