Department of Counseling & School Psychology
The primary mission of the Department of Counseling and School Psychology (CSP) is preparing culturally competent and compassionate professionals at the graduate level to provide leadership in school counseling, school psychology, marriage and family therapy, and community counseling. In addition, the Department engages undergraduates in the social sciences in theoretical and professional knowledge and skills in counseling, social change and social justice with the option of an undergraduate minor. CSP is an interdisciplinary department committed to work towards equity, economic, and social justice within the College and University, our professions, and throughout the broader society.
Announcements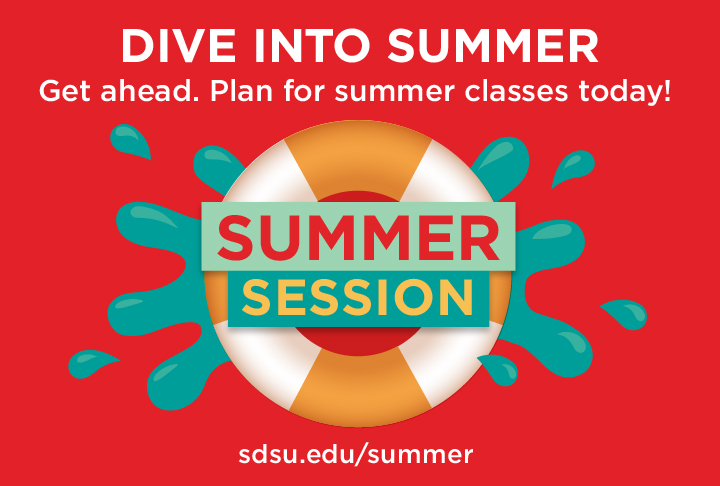 San Diego State University summer courses can help you get ahead in your coursework and stay connected to your professors and the campus over the summer. SDSU is offering hundreds of online courses in three short sessions. Taking just one summer session course can put you on track to graduate on time or leave room in your schedule for an internship, a job, participation in a student organization next year, or other valuable experience.
Fall 2022 Admissions
SDSU began accepting applications for fall 2022 on October 1, 2021. Deadlines differ by program. Please see individual academic program information for details.
CSP Statement on Discrimination and Violence Against the AAPI Community
Our department unequivocally condemns the recent increase in racism, violence, and hate toward Asian-American and Pacific Islander (AAPI) communities, and we stand in support of the AAPI community. We mourn the loss and honor the legacies of the nine victims of the March 16th mass shooting in Atlanta, GA, as well as the elders who have been violently attacked in the Bay area. These horrendous acts of violence and discrimination that have taken place over recent months are only a small fraction of the harm incurred upon AAPI communities over the past year. Statistics from Stop AAPI Hate reveal 3,795 reported incidents of hate between March 19, 2020, and February 28, 2021, 987 of which were reported in the short time between January and March of this year. The increase in Anti-Asian rhetoric has turned daily routines like going to the grocery store, into threats of safety with businesses being the number one site of reported discrimination followed by public streets, and public parks (Stop AAPI Hate, 2021). Racism and violence against those in the AAPI community have received more media attention recently, however, it's not new. Acts of hate and violence against the AAPI community extend back to the mid-19th century in the United States.
Now is the time to critically examine the ways in which our actions support Anti-Asian ideologies and systems which serve nativism and continue to position AAPI individuals as the model minority, a positioning that dismisses acts of racialized violence as random events. As a collective, the programs of the CSP department prioritize advocacy and projects towards anti-racism, linguistic exclusion, and sociopolitical justice. In doing so, it's imperative that we voice resistance to actions and rhetoric which seek to silence experiences of AAPI communities.
We believe that a statement of solidarity does not seem like enough. True action begins now and begins with us. As the Department of Counseling and School Psychology here are the ways in which we are making a stand and creating change. Enough is enough! We will commit to finding ways to educate all students, faculty, staff, supervisors, and other partners within our department (and beyond) about the lives of people from the AAPI community. We will educate (and gain knowledge) about the history, beliefs, languages, and practices that affirm the AAPI community. More importantly, we agree to acknowledge and hold space for the pain, anger, emotion, and feelings of our AAPI faculty, staff, and students.
These are action steps we will take as a department: acknowledge emotions and hold space for the AAPI faculty, staff, and student, write grants devoted to this work, change our curriculum, improve our hiring practices and attract more AAPI faculty and staff, conduct research, seek out relevant professional development, and support and develop mentoring programs for AAPI students.
We encourage everyone to sign up and take the pledge to commit to creating a safe climate for Asian American students and faculty at SDSU: APIDA Pledge
Links and Resources
San Diego City Council adopted resolution
AAPA COVID-19 Racism-related Statement
Asian Americans Advancing Justice Tracking Hate Stories
National Asian Pacific American Bar Association (NAPABA) Hate Crimes Task Force and Pro Bono Legal Resources
Infographics and accompanying videos for helping AAPI families talk to children and teens exposed to anti-Asian bullying and harassment (developed for COVID-19 but also relevant now)
Asian American Mental Health Collective directory of APISAA therapists
AAPA Division on Practice list of COVID-related mental health resources
Free bystander intervention training to stop anti-Asian/American and xenophobic harassment
Black Lives Matter Statement
The CSP department unequivocally supports the Black Lives Matter Movement and stands firmly against police brutality and abhors the senseless murders of Ahmaud Arbery, Breonna Taylor, George Floyd, and too many others. As an interdisciplinary department who values equity, social justice, and developing positive social change agents, we are committed to disrupting and actively dismantling white supremacist practices and ideologies that oppress students, faculty, and community members. We envision programs that prepare students to engage in processes that will transform our current society, create systemic and structural change, engage in anti-racist practices, and provide culturally affirming ways of living, learning, and healing. We stand in solidarity with Black students, faculty, clients, and community members who have suffered silently for far too long. We are committed to conducting research, training students, and providing clinical and educational interventions that align with the Black Lives Matter Movement, that promote freedom, liberation, and justice for all.
Our Programs