Overview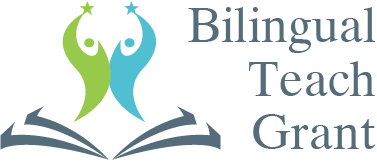 According to the California Department of Education, the state's population of 1.1 million English learners is the nation's largest. Meanwhile, the state has faced persistent shortages of qualified bilingual educators. Our goal is to train hundreds of new bilingual educators for high-need communities across California.
The Bilingual Teach Grant program aims to increase language and literacy achievement of English Learners by providing current and future K-12 teachers with:
professional development to learn effective dual language teaching strategies, improve literacy and improve dual language approaches;
a one-time stipend for in-service/pre-service teachers of $2,000-2800 for their participation for the duration of the program (one year);
college credit toward the bilingual teacher credential program
support through advising, exam assistance and other supports to set you up for success.
Who qualifies?
You may qualify if you meet one of the following criteria:
Currently teaching at a K-12 setting or starting the bilingual credential program
Currently working with ELs in a Bilingual/Dual Language setting
Recent graduate of a bilingual credential program
Currently enroll in the DLE MA program
Learn More or Apply
Join our Interest List Apply Now
Our partners:
San Diego County Office of Education
Butte County Office of Education
Imperial County Office of Education
Orange County Office of Education
Feather River College
Contact us:
Zoila Zambrano ([email protected])