Local school districts anticipate needing thousands of new teachers in the next few years. For individuals who are committed to making a positive difference for students, this is a fantastic time to pursue a teaching credential. No matter your major, you can start preparing today for a career in teaching.
Pathways to PK–12 Teaching
To become a teacher you need a California Preliminary Teaching Credential.
A teaching credential is a state-issued license to teach in a public school.
At SDSU there are 2 pathways to get your teaching credential!
About Traditional Credential Programs
Teaching credential programs are offered in the following subject areas:
Elementary School Teaching
Multiple Subjects (K–6)
Multiple Subjects (K–6) - Bilingual
Middle/High School Teaching
Single Subject - Bilingual
Single Subject (English)
Single Subject (Mathematics)
Single Subject (Science)
Single Subject (Social Science)
Single Subject (Art)
Single Subject (Music)
Single Subject (Physical Education)
Special Education
Early Childhood Specialization
Mild/Moderate Specialization
Moderate/Severe Specialization
About ITEP Programs
To ease the growing K-12 shortage in California, policymakers have made it possible for teacher preparation programs to provide "Integrated Teacher Education Programs" (ITEP), a new combination 4-year, bachelor and credential option.
ITEP combines the study of academic subjects with professional preparation courses and field experiences.
Currently, CSU teacher preparation programs are structured as fifth-year programs. Students first must earn a bachelor's degree in a discipline in 4 years and then enroll in a fifth-year teacher preparation program. ITEP allows students to enter the teaching profession immediately upon graduation.
ITEP is now recruiting in these high-need subject areas:
Elementary School Teaching
General Education

Bilingual Education

Special Education
Middle/High School Teaching
Next Steps
Traditional Programs
Sessions include general info regarding application requirements for our credential programs.
Talk to an advisor to find out which program works best for you.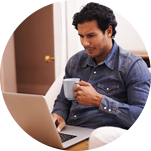 Learn about prerequisite courses, exams and deadlines for the CSU and program applications.
ITEP Programs
Learn more about the ITEP 4-year Teacher Preparation Programs.
Contact
Jackie Fuller, Advising and Recruitment Specialist
TESTIMONIALS: Hear Directly from Our Graduates
Why I Chose to Teach...
SCIENCE
featuring Lenelle Wylie, High School Biology Teacher
MATH
featuring Joe Garland, Middle School Math Teacher
BILINGUAL EDUCATION
featuring Sofia De La Garza, Bilingual Elementary School Teacher
SPECIAL EDUCATION
featuring Sarah Latoski-Jimenez, High School Special Ed. Teacher
and Angelia (Niecy) Watkins, Past Special Ed. Teacher and Current Special Ed. Administrator
It's a Good Time to Become a Teacher