Teaching with Technology Lab
The Teaching with Technology Lab in North Education 275 is a space designed for College of Education faculty to incorporate technology into their course lessons. The lab's Promethean Board, an interactive whiteboard, allows instructors to do direct instruction while pushing out questions and learning activities to students via laptops and mobile devices. The lab has 30 Chromebooks and 30 iPads that allow instructors to create a dynamic learning environment. This technology is used in many K-12 classrooms in local school districts.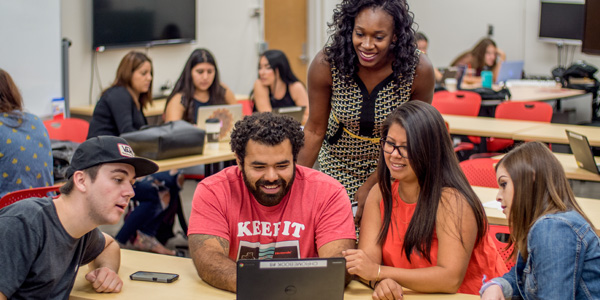 Features
30 chairs
15 tables on locking casters
30 Google Chromebooks
30 Apple iPads
1 touch-capable Promethean Board
1 document camera
1 Zoom Video Conferencing station
2 large LCDs with DVD players
Installed iPad Apps
2nd Grade Friendzy
ActivCast
AirMicroPad
Boardmaker Student Center
Book Creator One
Comic Life 3
Explain Everything
Free GraCalc
Google Classroom
Minecraft PE
Nearpod
Pic Collage - Photo Editor
Proloquo2Go
Proloquo4Text
Sphero Edu
Toontastic 3D
Write About This
CONTACTS & RULES
Scheduling
For single-day room scheduling please contact Elsa Tapia: [email protected]
Software
For iPad App installations please contact Gregg Koyamatsu: [email protected]
Training
For Promethean Board ClassFlow software training please contact Andrea Saltzman-Martin: [email protected]
Rules
A Red ID is required for all Chromebook and iPad use.
All equipment must remain in North Education 275.