Alumni Spotlight: Rasha Roshdy's Labor of Love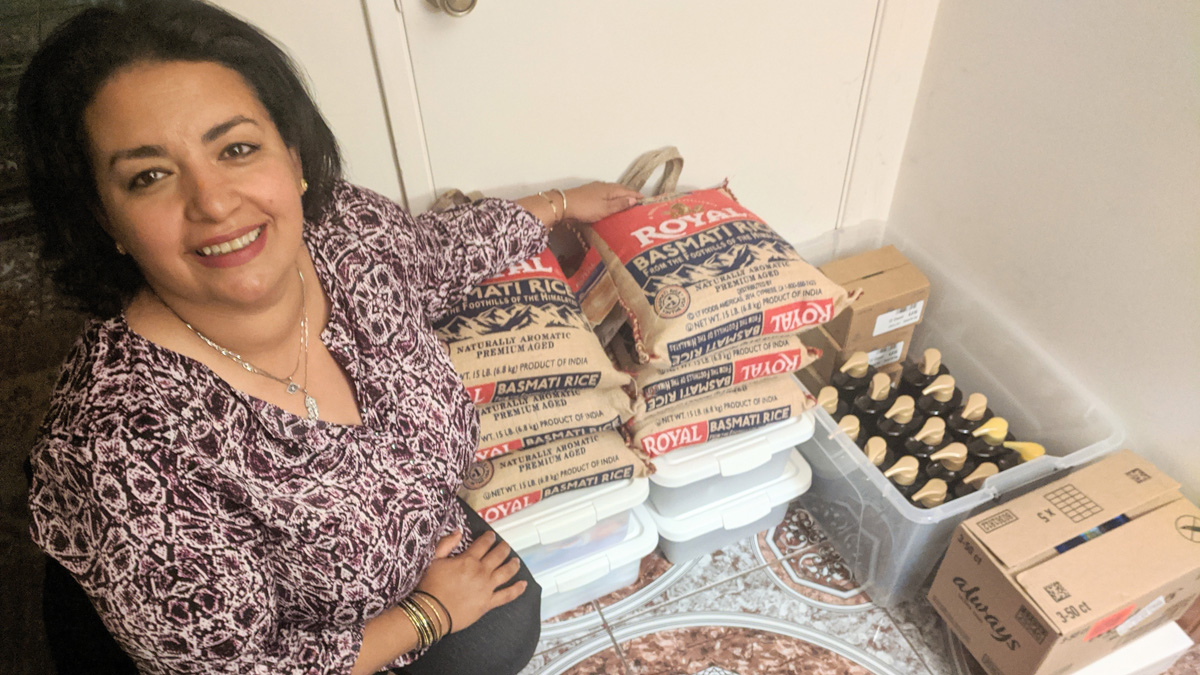 Dr. Rasha Roshdy ('15) was shopping in a Middle Eastern grocery store in El Cajon in the early days of the pandemic when a conversation caught her ear. Two women speaking Arabic — whom she later learned were Syrian refugees — were discussing a notice taped to their apartment door.

"They said they couldn't understand the notice because it was in English and they didn't know what they should do," said Roshdy, an alumna of San Diego State University's doctorate in education with a concentration in community college leadership (CCLEAD). "With the pandemic, all the services had gone online and they had no internet access. So they could no longer just walk in and ask somebody for help."

Roshdy offered to accompany the women home to read and help address the notice. They gratefully accepted — and an idea took root.

"I thought about it and said 'There is a need. I need to figure out how to help,'" she recalls.

What Roshdy started has become Amna Sanctuary, a nonprofit organization that has provided support to 34 or more local refugee families from Afghanistan, Syria and Somalia over the past year plus. The organization is named for her grandmother, who Roshdy remembers as "an advocate for women who helped a lot of families."

It's vital work, and increasingly in the spotlight as thousands of refugees who opposed the Taliban arrive in the wake of the U.S withdrawal from Afghanistan.

"They really came here under dire circumstances," Roshdy said. "For them to become active members of society, it's going to take a lot."
A change agent
Born in Cairo, Egypt, Roshdy immigrated to the United States in 1996 after marrying an American soldier. Her own difficult experience of learning English and adjusting to American culture stoked her desire to help people coming to the U.S. under even more difficult conditions.

Her experience at SDSU helped her believe in her ability to do so.

"The first class that my cohort took was a leadership course with Dr. Fred McFarlane," said Roshdy. "He talked about how you have to take initiative to be the change you want to see. I thought, 'Oh this is what I'm training to be: a change agent, a leader.' It doesn't start with your title, you can be a leader anywhere. That first course was very inspiring and it made an impact on me."

For the past year, Roshdy's desire to make change has resulted in a 40-hour per week unpaid labor of love with her home serving as a de facto warehouse for donated items. Recently, Amna Sanctuary's supporters donated a storage unit to help her reclaim her living room from the boxes of donations.

"I didn't have a lot of capital to do all this, so it was as grassroots as it gets," she said.

Her initial push was to help refugees bridge the digital gap. She found donors to provide laptops and a digital literacy curriculum, which she had translated and presented in Arabic and Pashto. As a result, she said, some refugees have been able to enroll in online English courses.

She soon learned many refugee families were living on cash aid that barely covered rent — and things like children's toys and even hygiene supplies were often scarce. Roshdy spearheaded a toy drive around Christmas that distributed more than 200 toys. In January, she secured a sponsorship with Dr. Bronner's, which donated laundry detergent, cleaning supplies, toothpaste and soap.


Along the way, Roshdy has also furnished apartments for new arrivals and helped people obtain sewing machines. She's currently working on fundraising so a father of seven can pay fees for a truck driver's license.


"They need to be able to join the workforce and fend for themselves," Roshdy said. "This doesn't just benefit refugees. It benefits society as a whole."
Meeting increasing need
Roshdy's tirelessness, bolstered by a small group of dedicated volunteers and donors, has been enough to make it work. She only recently was able to hire her first paid staff members — an Afghan coordinator and an accountant whose services she was able to afford thanks to a grant.
Roshdy is now preparing to ramp up in preparation for the refugees she knows will be coming to the San Diego region. But as need is growing, so are the services Amna Sanctuary plans to provide.
Online ESL instruction is slated to start in October, with books donated by a group of Navy wives. Roshdy is also working to secure the services of a trauma counselor who can start working with families early next year.
"We have no idea how many are coming and what's next," Roshdy said. "We'll deal with it one family at a time and one problem at a time. But it's working."
She adds with a laugh: "And it all started with me eavesdropping in a grocery store."