Celebrating 40 Years of Transformation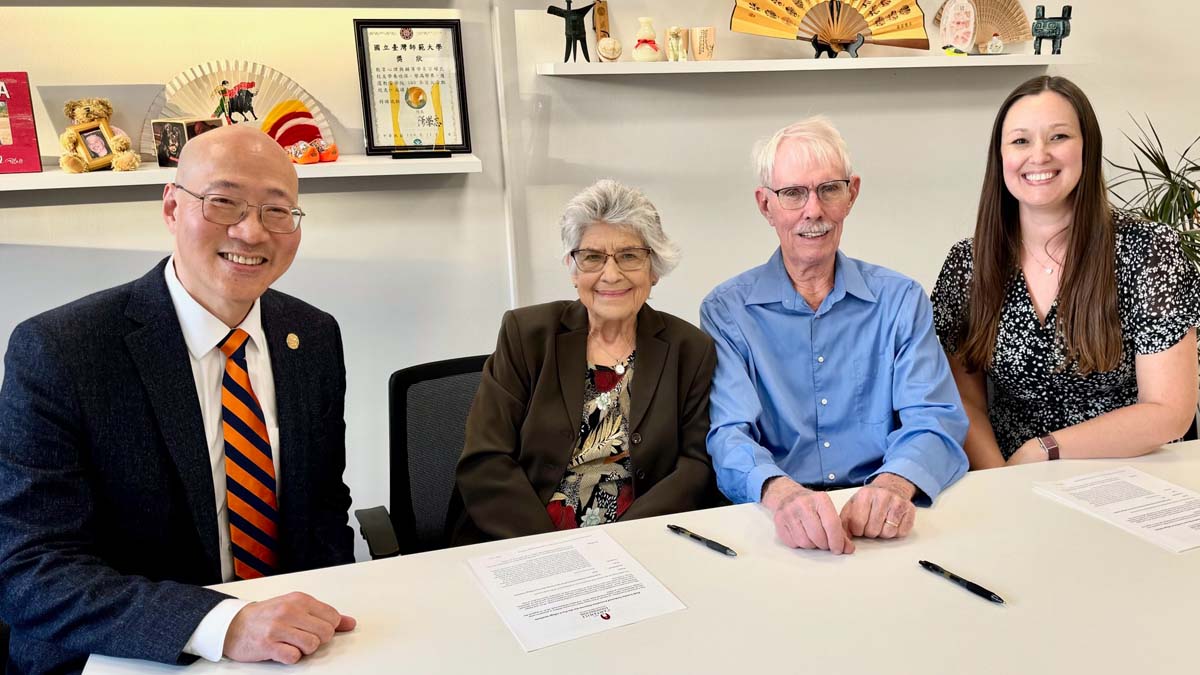 Over the past 40 years, San Diego State University School of Teacher Education professor Cynthia Park has transformed thousands of young lives through her work as the founding director of the Pre-College Institute. Along the way, as her organization has expanded, and continues to evolve and set a bold course for the decades to come, one thing has remained constant:
Cynthia Park is absolutely never satisfied with things as they are.
"I decided early on that I'm not just going to keep doing the same thing year after year," Park explains. "Because first … that would be boring, and who wants to be bored?
"But second, I saw the possibilities."
Today, PCI — now known as The Institute for Transformative Education, reflecting a new direction — is a hive of activity with a team of 18 full-time staff and 10 half-time staff. They're working to support aspirations of more than 1,200 area middle and high school students each year through its federally-funded Upward Bound and Talent Search programs.
The organization provides service-learning opportunities to SDSU students interested in making a difference as tutors through the Pathways Office in STEAM Education. In 2019, PCI established an Undergraduate Research Lab where SDSU students study outcomes and impacts.
"For our students who attend underserved schools and come from immigrant families and low-income backgrounds, there's no way that they can make of their lives what they want to make of their lives without this kind of support," Park says.
Early Beginnings
All of this would have been hard to fathom 40 years ago.
It was 1983 when Park — who had then been on the teacher education faculty for six years — was asked by her department chair to become the director of a new competitive proposal for Upward Bound, a federal program aimed at preparing young people for college entrance. That meant taking the lead on a six-week summer residential program where students stay in the SDSU residence halls, complete coursework, and receive full-time supervision, counseling and tutoring.
"I had been a camp counselor and a Girl Scout counselor, so I wasn't new to the idea of summer camps," recalls Park, whose academic background is in linguistics. "But this was different. The first summer was totally crazy."
"But the students didn't know it," she adds, smiling.
The summer of 1984 may have been a learning experience, but Park proved to be a quick study. Staff hired from local districts taught her how to connect with the young students and she soon became adept at building the organizational plane while flying it safely.
At the end of the first summer, at the annual Upward Bound awards banquet, she discovered the "why" that has stuck with her four decades later.
"When you go to the awards banquet and the kids give their testimony about what the program meant to them, you kind of get hooked," Park said.
Constant Change
To understand Park's leadership style, it would help to know a little about Guadalupe Ortiz, Park's mother. Born in the mountains of Puerto Rico to a humble family, Ortiz transcended her circumstance by tenaciously pursuing education, moving to the U.S. to attend school thanks to a Catholic Church scholarship.
"She was always learning, she was a very creative person and she was never satisfied — except for her meatloaf which was always terrific," Park said with a laugh. "When you have someone to model that for you, it instills in you a sense of progress and a belief that you can do it."
Park has spent the decades since living up to her mother's legacy. Eager to impact more young people outside of the Upward Bound summer program, she partnered with the June Burnett Institute to write the grant that funded the first SDSU Talent Search program in 1991.
"Talent Search was the beginning of our service-learning program and the Pathways Office came out of that," Park said. "Through Pathways, we've been able to incorporate our college students so they can learn about working with kids hands-on and working in the schools. They often don't get to experience that in their usual programs."
Since 2010, Park's focus has been on professionalizing PCI, strengthening its brand and breaking down silos among the organization's programs. In recent years, a shift in philosophy has also taken root.
Park says PCI was founded with a deficit-framing that was in alignment with the government's Upward Bound and Talent Search programs' stated purposes and regulations. The initial idea was to help underserved students "catch up," and that a college degree was the only outcome for success.

Now, the organization is moving to what Park calls a "social justice empowerment model" — one that invites young people to decide what they want for themselves, then offers the resources to help them achieve those dreams.
Hence the new name: The Institute for Transformative Education.
"We have changed our mission now to say we are supporting students to be who they want to be, not what we think they should be," Park said. "That's a real big difference in terms of what I have come to know over the last few years — what is liberating for the student."
Perpetuating Success
Throughout the years, PCI boasts more than its share of success stories. Program alumni have gone into teaching, medicine, engineering and academic research, and five are SDSU staff members.
Among them is Rosie Villafana-Hatcher, director of the Early Assessment Program in SDSU's Office of Educational Opportunity Programs, Outreach and Success. Villafana-Hatcher was a student in Upward Bound in the summers of 1993 and 1995 and returned as a full-time staff member in 2002. She even met her future husband while serving as an advisor in 1999.
"PCI was key in developing my academic skills, teaching me how to leverage my social and cultural capital to navigate the academic rigor and complexity of attending UCLA as a first-generation undergrad and graduate student," Villafana-Hatcher said. "Although I had wonderful parents who valued education, and who instilled in me a hard work ethic, the Pre-College Institute — under Dr. Park's leadership — provided a space and team of educators, teachers, counselors and mentors who planted seeds in underserved communities and helped us grow personally and professionally."

Park and her husband James Park recently decided to make a transformative gift that will ensure countless more success stories will be written. The couple has created an endowment that will support the Institute for Transformative Education's executive director long after Cynthia Park's eventual retirement.
"The whole idea of the endowment is to perpetuate and sustain programs that have been so beneficial to so many people," said James Park, a longtime professor in the San Diego Community College District. "There is such a desperate need to address those shortages, and that's what we're trying to do. What's amazing about these programs is that they lead towards success."
Remarked Y. Barry Chung, Dean of the College of Education: "I'm incredibly grateful to Cynthia and James for their visionary gift to ensure the Institute for Transformative Education will continue to positively impact young lives for decades to come. Cynthia's 40-year legacy of making a difference through PCI inspires us all. Here's to the next 40!"

Both the transformative gift and the organization's legacy of transforming lives will be observed at the 40th-anniversary celebration on Dec. 1. The occasion will also give Cynthia Park yet another chance to do what she has always found so powerful — to hear the testimonies of the people PCI's programs have positively impacted.
"As a person dedicated to education for underserved students, hearing their life stories really makes me say 'Wow! This really makes a difference,'" Park said. "So if this really makes a difference, why would I spend my time doing anything else?"
To learn more about supporting the Institute for Transformative Education through philanthropy, please contact Megan Beardsley, senior director of development, at [email protected] or 619-594-2277.