Honoring the Life of a Devoted Educator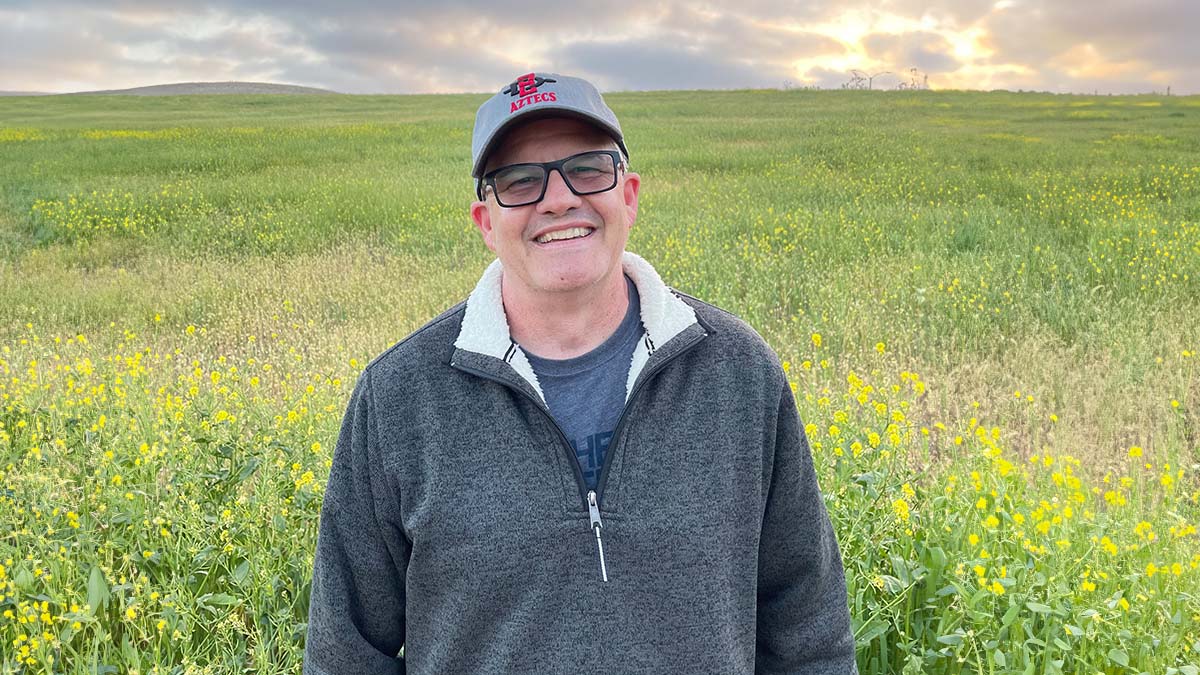 Somewhere in Tim and Roberta Simmons' Colorado Springs home is a photo that never fails to make the couple smile. It's of their son, San Diego State University alumnus Tim Simmons Jr. playing the guitar while donning an 18th Century powdered wig.
For full context, Tim, Jr. was in front of his elementary school class at the time, teaching his students about classical composers Beethoven and Bach. The playful and engaging way he chose to do so captured the kind of educator — indeed, the kind of person — their son was.
"What was important for him was to look at the uniqueness of each and every child," Roberta recalls. "He especially loved working with low-income children — children with issues maybe at home or financial issues — and finding what they needed."
Tim Simmons Jr.'s long career as a San Diego teacher and educational leader ended tragically this past April, when he died at age 57 following a long battle with pancreatic cancer. It was an unimaginable loss for the Simmons family, including the wife and two children he left behind.
But the family has found a way to channel their grief. Last summer, Roberta, Tim and their son and daughter-in-law Mark and Kellie Simmons established the Simmons Family Endowed Scholarship, which will support candidates in SDSU's teaching credential programs.

"We just thought it would be a good way of continuing his legacy by establishing this scholarship for future teachers," Roberta explains.
A Passion for Teaching
Tim Jr. spent most of his career at Darnall Charter School in East San Diego. He taught for seven years before spending nearly a decade in administration. But teaching remained his true love.
"He chose elementary education because there wasn't one subject that he preferred," Tim Sr. said. "He liked the concept that everything is new to these children and he could work in every area, in all these innovative ways, and bring all of his interests into the classroom."
His many interests included music — hence the guitar and wig — and linguistics, the latter inspiring him to earn an English Learner (EL) Authorization and Crosscultural, Language, and Academic Development (CLAD) Certificate. Roberta said early in his career, her son had many students who were Somali refugees, and he took great pride in finding ways to communicate and connect with them.
Tim Jr.'s wife, Ana Paula Montes de Oca, is a native Spanish speaker, and they taught their children Eric and Mariana to be fluent in both languages.
Early Experiences
Where did the love of teaching come from? Roberta and Tim believe a few experiences were formative.
Roberta herself had been an educator at a church preschool and young Tim Jr. would often tag along. He was also a teenager when his sister was born, and he became fascinated with her development.
Years later, when he was away in California, he used to record silly songs and mail the tapes off to his young sister Kim. One of his hits was "The Bald Cat Blues," written to make her feel better after the family cat had been shaved by the family veterinarian.
And one of Tim's first jobs? Driving a school bus.
"What better way to decide if elementary education is a suitable career?" Roberta says.
A Love of SDSU
Tim Jr. first arrived at SDSU in 1989 as a transfer student from Mesa College in what was the beginning of a long affinity for the university. He earned his bachelor's in liberal studies in 1992 and his multiple subject credential in 1993 before returning to earn a master's in educational technology in 1999.
Eric ('23, computer science) followed in his father's SDSU alumni footsteps, as will Mariana, currently a graduate student in public health.
An avid Aztecs basketball fan and season ticket holder, Tim Jr. even traveled to attend NCAA Tournament games during his illness.
"He loved SDSU, and he was always wearing that hat," Roberta said. "I think one thing that he liked about San Diego State is that it was very affordable compared to elsewhere. I think he felt like he got a really good education for a really good price.
"It's one of the things that made us feel good about creating this scholarship."
Donate to the Simmons Family Endowed Scholarship at philanthropy.sdsu.edu/SimmonsScholarship.
To learn more about supporting future educators through philanthropy, please contact Megan Beardsley, senior director of development, at [email protected] or 619-594-2277.