Saluting COE's Retiring Faculty and Staff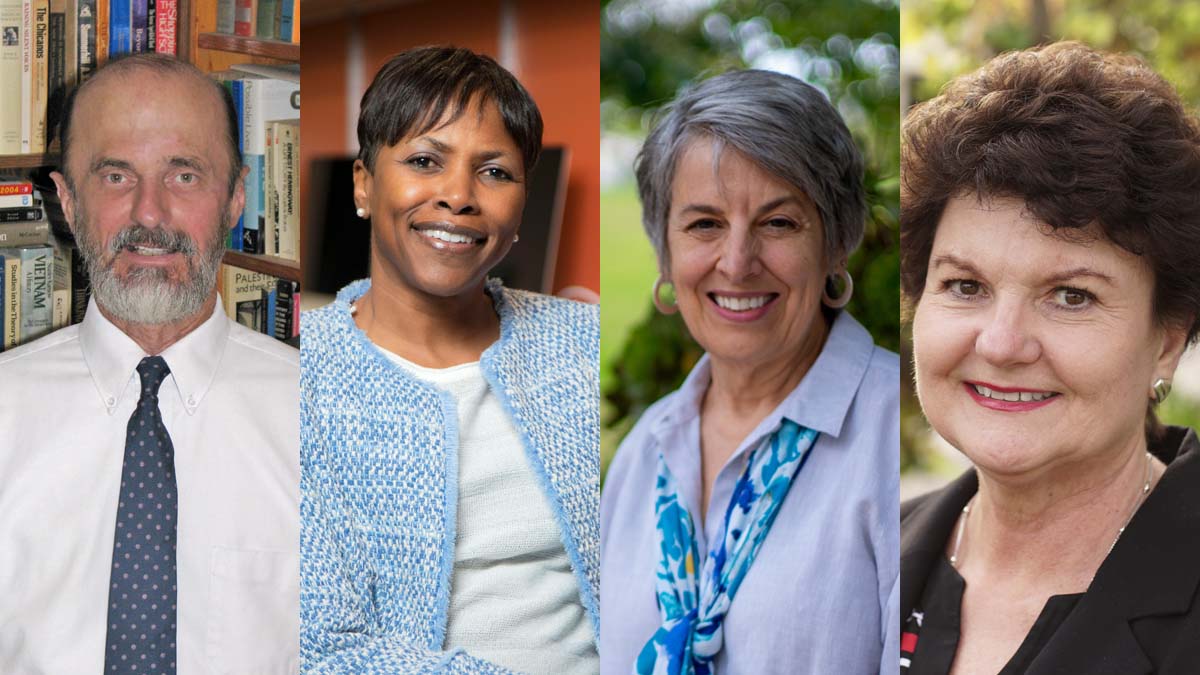 The San Diego State University College of Education salutes five longtime members of the college community who will retire this summer. Learn more about the careers and contributions of professor Ronald Evans, professor Colette L. Ingraham, associate professor Cheryl James-Ward, professor Marjorie Olney and director of resource management Julie White.
Ronald Evans
School of Teacher Education
A former public school teacher, Evans joined the College of Education faculty in 1989. The educational historian and social studies educator has authored nine books (six sole authored) and numerous journal articles and book chapters. According to Google Scholar, his work has been cited more than 3,300 times. Evans received the Exemplary Research Award (2008 and 2011) and the Distinguished Career Research Award (2015) from The National Council for Social Studies.
Now a part-time scholar, Evans continues to track the "social studies wars" (i.e., culture war controversies) and is working on a book about 1960s "new wave" school reform and its legacy. He also moonlights as a folk singer, performing at county fairs, non-profit events and on street corners and in parks — both solo and with the Front Street Troubadours.
"I served 30-plus years in the College of Education, opening students' eyes to the realities and possibilities of schooling in American society and — I hope — inspiring at least a few to become outstanding teachers," Evans said. "My academic writing and research have contributed to our knowledge of teaching and the long history of cultural conflict and consensus that has played out in schools and the curriculum, deepening our understanding of the nature of education in a pluralistic society and highlighting some of the ways we can make a difference."
Colette L. Ingraham
Department of Counseling and School Psychology
Since arriving at SDSU in 1984, Ingraham is proud to have graduated more than 400 highly-skilled school psychologists and school counselors who are now making a difference at their school sites and in their communities. She was promoted to associate professor in 1989 and full professor in 2021 and spent five years each as director of the School Psychology and School Counseling programs.
Ingraham's research, which has been disseminated internationally, focuses on multicultural consultation and psychological service delivery systems. She has also served in leadership positions within national and state organizations, including the American Psychological Association and the National Association of School Psychologists.

"During my time at SDSU, I have had the privilege of developing a nationally-accredited school psychology program that serves the needs of all students, including those from racially, culturally and linguistically diverse backgrounds," Ingraham said. "Our School Psychology graduate program is nationally known and carefully designed to graduate high numbers of very capable BIPOC professionals in a field where 76% are white."
Cheryl James-Ward
Department of Educational Leadership
Ward joined the tenure-track faculty in the Department of Educational Leadership in 2007 following nearly two decades in K-12 education. While at SDSU, she launched the Chinese and American Educational Leadership Symposium and the online M.A. in Educational Leadership in 2013 in collaboration with the San Diego County Office of Education. She also served on the University Senate and the SDSU Finance Curriculum Committee.
An expert in design thinking, Ward took an active role in training San Diego County leaders and teachers on the approach. In 2016, she joined e3 Civic High, a public charter high school located in the San Diego Central Library, serving first as Chief of Academics and Innovation and later as CEO and Chief Innovation Officer. Ward plans to return to the K-12 space after retirement from SDSU and enjoys living a "balanced life" with her husband.
"My time in the college of education was a true gift because it has allowed me to help prepare the next generation of San Diego county school leaders, grow as a leader myself and raise my two culturally-aware and international children who are now a freshman at UPenn Wharton and a sophomore at USC, studying this year in Hong Kong," Ward said. "Thank you to SDSU and my colleagues for a phenomenal ride!"
Marjorie Olney
Department of Administration, Rehabilitation and Postsecondary Education
Olney began her career as a faculty member in the Department of Administration, Rehabilitation and Postsecondary Education in 2002. Early on, she realized that the study of psychiatric rehabilitation — vocational rehabilitation for individuals with serious mental illness — would be a natural extension of SDSU's Rehabilitation Counseling Program. She went on to create SDSU's Certificate in Psychiatric Rehabilitation and Concentration in Clinical Mental Health and Clinical Rehabilitation Counseling. She was also instrumental in helping SDSU gain accreditation through the Council for the Accreditation of Counseling and Related Educational Programs (CACREP).
Still a psychiatric rehabilitation practitioner at heart, Olney is working on a book aiming to facilitate remunerative employment for individuals with cognitive and psychiatric disabilities, many of whom lost out on critical developmental milestones due to their symptoms.
"For over 25 years of university teaching, I have had the honor and privilege of really getting to know younger people," Olney said. "The way I see it, the world is in good hands."
Julie White
Office of the Dean
An SDSU alumna ('01, Anthropology), White joined the College of Education staff in 2002 after working for the SDSU Research Foundation for nearly a decade. She served as office manager for the SDSU Literacy Center, budget assistant and then budget manager in the Office of the Dean, before being promoted to the directorship in 2022.
Known for diligently and effectively mentoring COE staff colleagues, White received the Presidential Staff Excellence Awards for Staff-to-Staff Mentoring in 2021.
"I've been lucky to partner with so many wonderful administrators, faculty and staff during my time here," White said. "Together, we've worked to keep our college on a successful path. The biggest thing I'll miss about SDSU is seeing these colleagues every day."