Two SDSU Alumni Named Top Teachers in San Diego County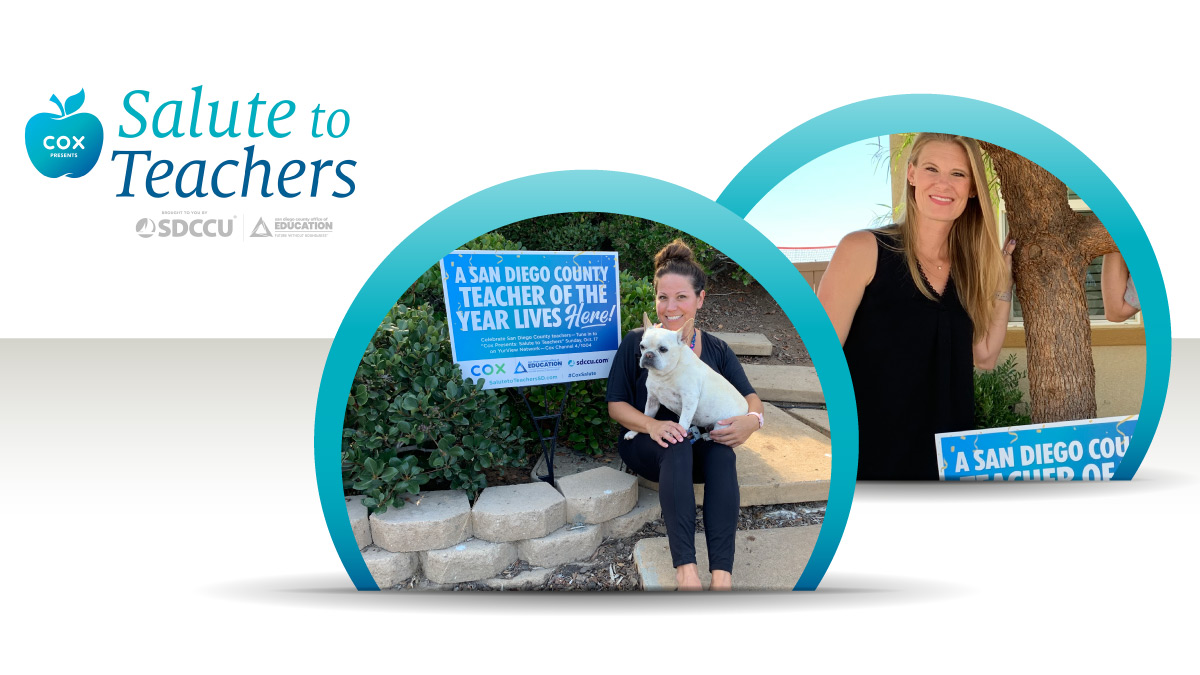 San Diego State University alumni Tiffany Jokerst ('05, '06) and Jacquelyn Flores Jourdane ('20) have been named two of the five recipients of the 2022 Teachers of the Year award presented by the San Diego County Office of Education.
The two will be honored Oct. 17 during the "Cox Presents: Salute to Teachers" cable television special on YurView Network. With the county honor, Jokerst and Jourdane became finalists for the California Teacher of Year honor, to be announced later this month.
Jokerst teaches math and engineering and chairs the mathematics department at West Hills High School in Santee. Jourdane teaches second grade at San Altos Elementary School in Lemon Grove. Both reflected on the people who inspired them and how their SDSU experiences contributed to their success as educators.
Paying it forward
From her own first days as a student, Tiffany Jokerst has known she wanted to be a teacher. It was a traumatic time in her young life, as she was sent to live with her grandparents after her mother was hospitalized with a mental health disorder.
"That's really hard to overcome as a 4- or 5-year old," Jokerst recalled. "My kindergarten teacher took me under her wing and was so nurturing. She provided that stable environment that I didn't have at home.
"Since kindergarten, I've known that I want to do this for other people."
These days, it's similar personal connections with her students that inspire Jokerst. She said she relishes the chance to "pay it forward," as she has supported students through mental health crises and other difficult circumstances.
"Students have reached out to me, maybe not knowing my story explicitly but knowing that I am a kind and caring person who is in this profession to help them in any way that I can," Jokerst said. "I just love my job. If I won the lottery I would still walk into school tomorrow."
Jokerst, who has taught in the Grossmont Union High School District for more than 14 years, also helps students overcome math anxiety. As an early adopter of new mathematical practices, her innovative teaching style centers on project-based learning and collaborative problem solving.
SDSU roots run deep for Jokerst, who earned her bachelor's degree in mathematics and teaching credential on Montezuma Mesa. Other alumni in her family include her husband Travis Jokerst, whom she married in her first year, and her grandfather Russell Boehmke, who played quarterback for the Aztecs in the 1960s under legendary coach Don Coryell.
"I absolutely loved SDSU," she said. "When I moved to my credentialing program, I got to see that project-based collaborative approach modeled. So I feel like my time at SDSU really prepared me to walk into the classroom."
A legacy of equity
For Jacquelyn Flores Jourdane, nothing matches the satisfaction she gets from teaching 7- and 8-year-olds how to read.
"That whole process of reading is really special to me because I struggled as a reader when I was in elementary school," she said. "Watching their progression is amazing — seeing students find that confidence in themselves and have reading become an enjoyable thing to do. It's what I like most about what I do."
Jourdane, who spent a decade as a substitute teacher in the San Diego Unified School District, came to Lemon Grove in 2017 and immediately found a home. A diverse community with a large Latinx population, Lemon Grove is the site of a landmark 1931 Supreme Court case that overturned the barring of Mexican-American children from attending elementary school.
That carries extra significance for Jourdane, whose father Maurice "Mo" Jourdane — a civil rights lawyer to labor leader Cesar Chavez — was involved in another famous case: Diana v. California State Board of Education, which ended the practice of subjecting Latinx children to discriminatory IQ tests.
It's a history that Jourdane doesn't shy away from discussing with her students.
"My father really instilled in me that we need to treat people equally and we need to make sure we are giving each individual human being what they need to be successful," said Jourdane. "Hearing his stories representing groups of people who did not have a voice is a huge part of who I am."
Jourdane also comes from a family of educators. Her great grandparents taught in Panama and later in Los Angeles after immigrating to the U.S. Her mother also recently retired as a teacher at — appropriately enough — Chavez Elementary in the San Diego Unified School District.
If teaching was in her blood, SDSU helped Jourdane hone her craft. She entered the Master of Arts in Teaching (MAT) program in 2019, and stuck with it when the pandemic moved the program completely online last spring. She said MAT not only allowed her to take a deep dive into pedagogy, but connected her to a network of fellow educators that she still leverages today.
"I took that program at a really strange time, but it ultimately prepared me really, really well for this honor," Jourdane said. "I am fresh out of being supported by not only amazing professors but amazing peers. I genuinely felt cared for.
"Entering SDSU's program was one of the best decisions of my life."