Office for Student Success Launches New Future Teacher Outreach Effort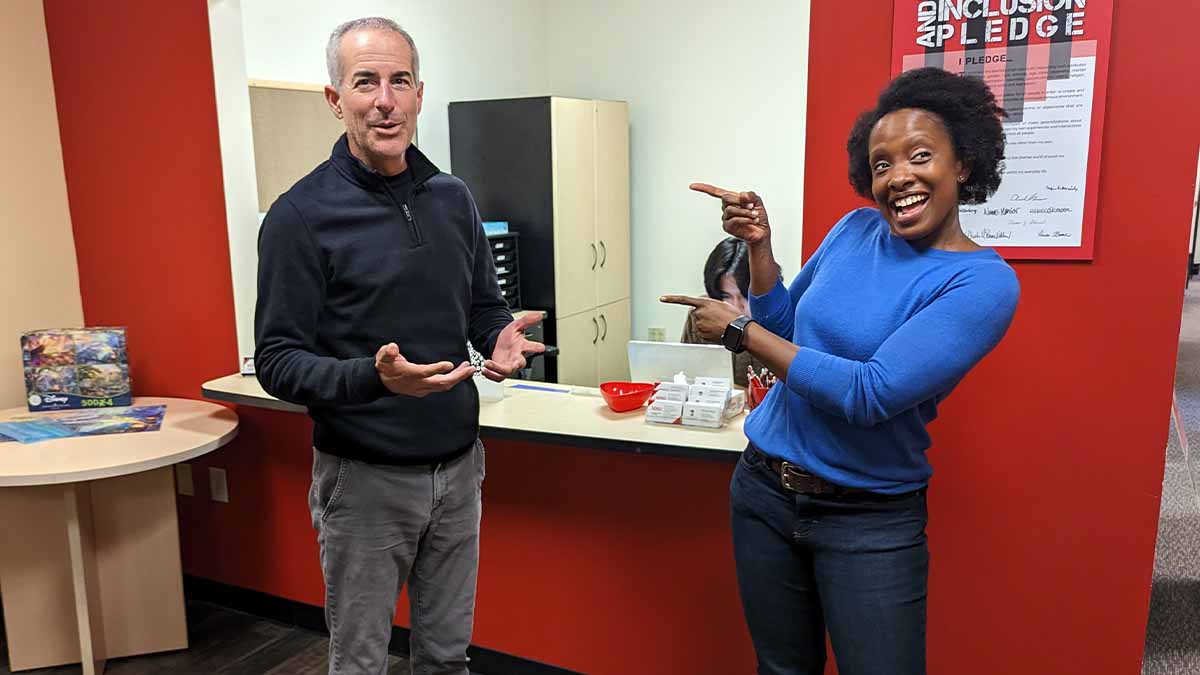 It's no secret that the state of California needs more teachers. Even before the COVID-19 pandemic turned the trend into a crisis, turnover and retirements over the past decade had fueled the need for more educators equipped to meet the needs of the state's diverse student population.
The San Diego State University College of Education's recently-reorganized Office for Student Success (OSS) has launched a new initiative to help meet the moment. Paul Justice, OSS coordinator, is spearheading a new outreach initiative to boost the ranks of SDSU's teaching credential programs.
His secret weapon? A dedicated team of COE lecturers.
Adrienne Nicodemus and Emily Watson, both lecturers and cohort co-leaders in STE, have been brought into the OSS with the goal of increasing the number and diversity of candidates in SDSU's multiple- and single-subject credential programs. Liz Buffington, Cultural Proficiency Minor coordinator and lecturer, and Department of Special Education lecturers Ginger Joyce and Janice Chan are also significantly contributing to the push.
"The ability to strategize and problem solve with this group has been really gratifying and effective this semester, and will continue to be," Justice said. "The landscape in teacher ed seems to be shifting around us all the time, which means we have to rethink and shift and adapt. And when you've got a good team of people who both want to do that and are very good at doing that, I think you have a recipe for success."
Thus far, the team is relying heavily on shoe leather to help get the word out.
In April, Watson and Buffington attended an outreach event at San Diego Mesa College for high school and community college students interested in education careers. Meanwhile, Nicodemus and Justice met with advisors from SDSU athletics in an effort to engage Aztecs student-athletes who might be interested in considering teaching or coaching as a career path.
The larger idea is to develop partnerships with campus units, campus identity centers and affinity groups to help identify interested students from majors that align well with teaching (think liberal studies, child development, mathematics, psychology, social science and English) — but also from majors that don't. Nicodemus and Watson then work to guide interested students through the application process and mentor matriculated credential students.
"We want to find students who maybe don't know that education is an option for them or haven't given it a lot of consideration," said Nicodemus, a former high school teacher herself. "These are people who come into undergrad and choose a major, but they don't really know what to do with it.
"Looking back at my own undergrad experience, it seemed like everyone I knew was going to be a pharmaceutical sales rep because they just couldn't figure out what the opportunities were."
Finding and supporting diverse candidates to match local demographics, and putting teachers in classrooms who come from the communities they will serve, are significant parts of the strategy.
"Getting more teachers in the field who reflect the makeup of San Diego is incredibly important," said Watson, who taught elementary and middle school for 26 years. "I work a lot in Cajon Valley, and there's a group of students that speak Arabic or a multitude of languages. We need to not only support them, but for these kids to see themselves represented in their teachers."
MORE: Learn about work by SDSU's Center for Achieving Black Wellness and Anti-Racist Education (CABWARE) to build a pipeline of Black educators.
Ultimately, for OSS, success hinges on building relationships — whether with prospective students or potential campus and community partners. And the team in place is up to the task.
"To me it's really about teamwork," Buffington said. "I think it's a true privilege to work with so many wonderful humans who care about the profession of teaching and are willing to have the tough conversations about how we can have different realities than the ones that we have now."
Added Nicodemus: "I think a picture of success is removing barriers to entry for folks who have the heart for this work."