'You Are Enough': DLE Master's Student Helps Children Explore Culture, Identity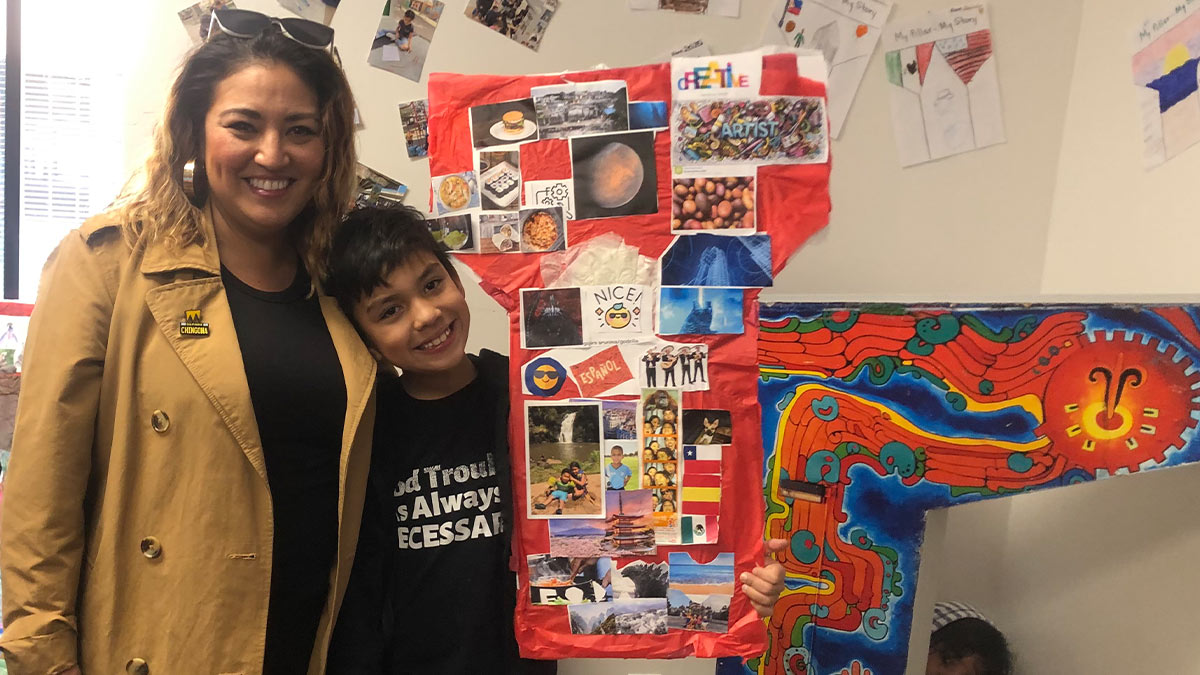 Candice Arancibia smiled as she gazed out at the beaming faces filling the Chicano Park Museum and Cultural Center on a bright Saturday afternoon in early February. A festive atmosphere reigned as dozens of students and families from High Tech Elementary Chula Vista (HTeCV) gathered for the Roots to Rise exhibition.
On display was the fruit of a semester-long project-based learning curriculum developed by Arancibia — a San Diego State University alumna, current Department of Dual Language and English Learner Education (DLE) master's student and third-grade teacher at the project-based learning school HTeCV.
The idea was simple but significant: Empower her students from the South Bay's Latinx and immigrant communities to explore and take pride in their own identities using the power of story.
"This is the work," Arancibia said as she soaked in the scene. "This is social justice in action."
Each of her students — including Arancibia's 8-year-old son Agustín — decorated and presented a personalized "mini-mural" collage on cardboard cut to resemble Chicano Park's iconic highway pillar murals. The assignment encouraged them to explore their own story, from family history and culture, to current interests and future aspirations.
"My form of resistance is teaching my students that you are enough — that you have so much to bring to the table," she said.
It's a message Arancibia said was largely absent from her own schooling growing up in East San Diego County. Now in her 16th year as a classroom teacher, the graduate of SDSU's dual language immersion teaching credential program proudly centers love, identity and joy when designing student projects.
The Roots to Rise project underscored the importance of keeping language, culture and traditions alive within families and communities. Her goal is to empower students to be comfortable with who they are so they can show up as their authentic selves.
"It's about unpacking the layers and really seeing the students for who they are," Arancibia said. "You see this really beautiful balance of 'I am American' and 'I am something else' at the same time. I had one student — it was so beautiful — she said, 'I am carne asada tacos, and I'm also French fries. So I'm kind of like a California burrito.'"
She laughs before striking a serious note.
"I think oftentimes as a person of color, you're told that you're not American enough. This is getting them to believe, 'Yes I am American enough because America is a beautiful mix and melting pot of people.'"
Arancibia's deep commitment to ensuring equitable education for marginalized communities is why she returned to SDSU as a student in DLE's critical literacy and social justice master's program.
"I've always had a passion for giving students opportunities — especially students who are very limited within their language," she explains. "The DLE program has a very strong root anchor in social justice, going back to my credential program 16 years ago. Now in the master's program it's really about how project-based learning can be a tool for equity for our emerging bilinguals.
"Project based learning offers ample opportunities to practice language in deep and meaningful ways, like deep conversations, collaboration, presentations of learning, reflections, giving and receiving critique and feedback. Students get to practice language in authentic ways."
Arancibia and her students proved that when it all comes together, the results can be a vibrant masterpiece.