Postsecondary Educational Leadership: Specialization in Student Affairs (M.A.) Program Application
Find program application information for the Postsecondary Educational Leadership: Specialization in Student Affairs (M.A.), as well as required supplemental documents.
Important Dates for Fall 2019
Item
Due Date
1. Cal State Apply application
(opens October 1, 2018)

December 15, 2018

2. Program application
January 12, 2019
3. Transcripts & GRE scores due

January 12, 2019
Note: Fall 2018 applications are closed. The application process for Fall 2019 will open October 1, 2018. Please check back on this page for details on Informational Sessions.
Steps to Apply
Follow the steps below to apply to the Postsecondary Educational Leadership: Specialization in Student Affairs (M.A.) Program:
You must first apply to the California State University via Cal State Apply.
Next, request official transcripts.
Then, apply to the SDSU College of Education program which offers the degree you seek.
1. Submit Cal State Apply
For assistance, see Tips on Completing the Cal State Apply University Application.
Go to Cal State Apply (CSU Application)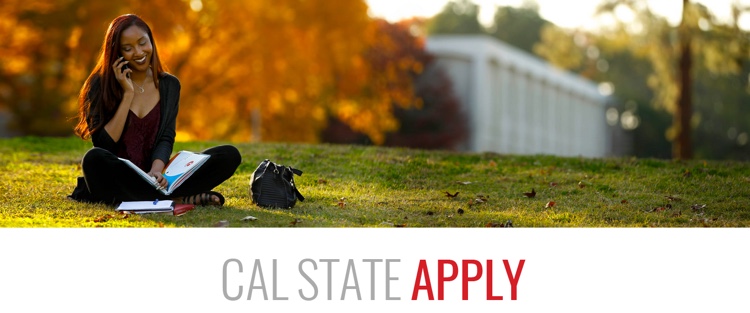 2. Request official transcripts
Request that your official transcripts be sent to SDSU, following instructions on our Submit Test Scores and Transcripts page.
3. Apply to the Program
Submit the program application and required documents as directed below:
Required documents
Please gather the items below and have them ready to upload:
Unofficial Transcripts:

Download unofficial transcripts (or scan a paper transcript) for every institution, one file per institution, and be prepared to upload to the online program application. This is in addition to, not a substitution for, having official transcripts sent to SDSU Graduate Admissions office.


Resume/ CV:

Prepare a resume or curriculum vitae. We expect that this will at least include your education and work history, as well as your leadership experience and community activities.


Student Affairs Assistantship Form: If you are applying for a student affairs assistantship, please submit a one-page statement of interest in which you describe your interests, background, and the reasons why you would be a good candidate for the position(s) in which you are interested. View a list of Student Affairs Assistantships.


Letter of Recommendation:

Contact two individuals who you have interacted with professionally and would be able to write a letter of recommendation for you. Recommenders will submit their letters directly into the Online Program application.


Statement of Purpose:

Write a 500 word statement of purpose, double-spaced and at least size 12 font, that addresses the following questions:
Why are you interested in this graduate program?
How have your previous academic experiences prepared you to meet the academic demands of graduate education and learning outcomes of this graduate program?
How have your leadership experiences, community service activities, or work experience prepared you for success in this graduate program?
What are your professional goals? How will obtaining this degree facilitate your achievement of these goals?
Are there any other relevant insights you wish to add regarding your readiness for graduate education and/or your admission to this graduate program?
Program application
Access the Online Program Application
Go to Program Application - Apply Now
Interviews
Immediately after the January deadline, all applications will be reviewed by a committee of faculty in the ARPE department. Following this review, a select group of students will be invited to interview for admission to the program and for a student affairs assistantship (if applicable). Assistantship interviews will be held in-person or via Skype (at the applicant's preference) in late February or early March. Students who did not apply or are not being considered for an assistantship will interview in-person or via Skype (at the applicant's preference). Students will be notified of their admission status (admitted, denied, or waitlisted) shortly following the interview period. View information on discounts for travel and accommodations.