There are two different directories, one is the SDSU directory and the other is the COE directory. Make changes to each directory separately. On this page, learn how to update each directory.
SDSU employees can update phone information by logging into PeopleSoft HCM Self-Service or email [email protected].
Auxiliary employees update phone information using existing internal processes.
For other issues related to the campus directory including IT issues, data corrections and feature requests, visit the University-wide IT Service Portal to request assistance.
Updates or New Profiles
To update your profile, or request a new profile, visit the ServiceNow Service Portal to create a support request (choose the Report a Problem option).
Profile Information
View sample profile. Information you can add to your profile includes the following:
Personal Info
Photo: A professional photograph of yourself (contact Mike Klitzing if you need to schedule time with one of our student photographers). Note the layout, size, and quality of the sample photo below. Exact dimensions: 300 x 300 pixels.
First Name
Last Name
Suffix (e.g. Ph.D., Ed.D., M.A., LMFT)
Display Name: If provided, overrides First Name, Last Name, and Suffix for display purposes (e.g. use if you want to include a middle initial). First and Last Name fields will still be used for sorting purposes on the list.
Pronouns: Personal pronouns (e.g. She/Her/Hers)
Affiliation
Type: Faculty, Staff, Student or Lecturer
Job Title (e.g. Department Coordinator, Professor, Director, etc.): If you have more than one title, please make sure to add your academic department title. For example:

Program Director, CBB & Associate Professor

Department
Contact Info
Email
Alternative Email
Phone
Fax
Location
Campus: San Diego, Imperial Valley, Mission Valley, Georgia (default set to San Diego)
Building
Room Number
Mail Code
Steet Address
Links and Remote Feeds
File: Can be a CV as a PDF or public Google Doc link (recommended).
Label: to describe file
Website (provide URL)
Watermark Faculty Success (formerly Digital Measures) Profile Info: If you have a Faculty Success account, you can feed information from your account into your profile.
Info Sections
Each profile has unique editable areas in the following categories:
Bio: you can include a professional biography, a personal biography, and/or a video.
Areas of Specialization
Awards & Honors
Certifications
Courses
Directed Student Research
Education
Grants
Intellectual Contributions
Interests
Languages
Media
Presentations
Publications
Research
Responsibilities
Service
Screenshot of Sample Profile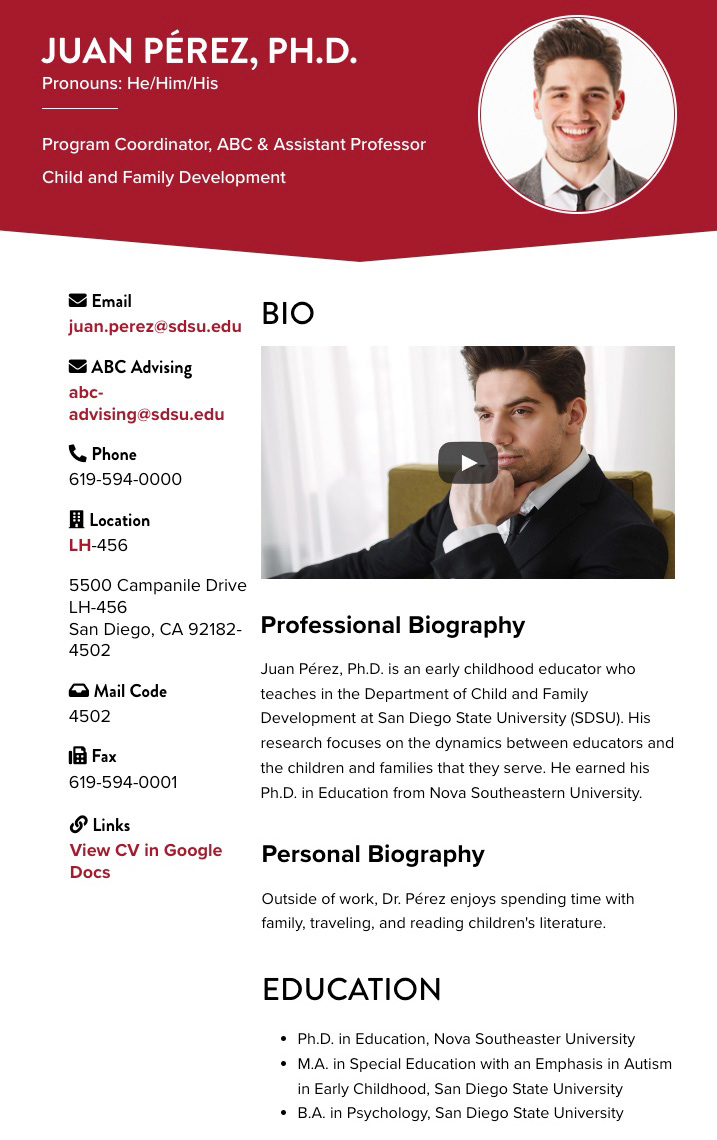 Questions?
Questions about the College of Education Directory can be directed to Manny Uribe ([email protected]).