Camarena Honored for Commitment to Equity in Sex Therapy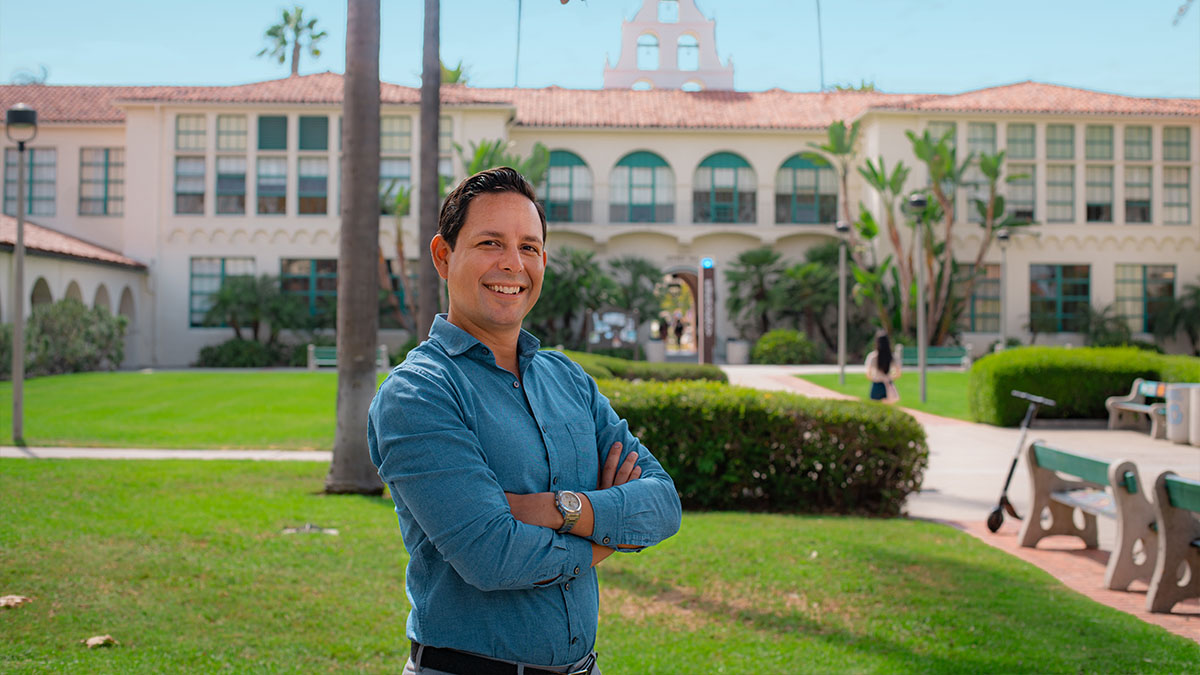 When many folks think of sex therapy, the first person who still comes to mind is Dr. Ruth Westeimer, the legendary therapist who became a television star in the 1980s.

With respect to the famed "sexpert," San Diego State University's Juan Camarena wants to help give public perception of the profession a 21st Century update — one more inclusive of and responsive to ethnic, gender and sexual diversity.

"Dr. Ruth was amazing in her time, but Dr. Ruth was not talking about how culture, family and social media impact our body image, sex and sexuality — she was still talking about parts," said Camarena, an assistant professor in the Department of Counseling and School Psychology and a nationally-certified sex therapist.

"I think we've moved so far beyond that."

Camarena brings an intersectional lens to his teaching, research and practice as he strives to give Queer, Trans, Black, Indigenous, People of Color (QTBIPOC) a voice in frank discussions of sex and sexuality.

Later this month, Camarena will be honored for his equity focus as recipient of the 2023 DEI Award from the American Association of Sexuality Educators, Counselors and Therapists (AASECT). As a board member and chair of the professional organization's outreach and DEI committees, he has supported marginalized members and created opportunities for aspiring professionals from underrepresented backgrounds.

"This organization was revolutionary in 1967 when it was created, but it was not created with an intersectional lens as we understand it now," Camarena said. "It's been part of my and other people's work to create more opportunities for QTBIPOC folks in the fields of sexuality, and to have us see ourselves."

The need to diversify the field is evident when you consider that Camarena — who still maintains a practice helping patients work through issues ranging from sexual dysfunction and relationships to sexual identity — is one of only two certified, Spanish-speaking sex therapists in all of San Diego County.

"This lack of representation compounds marginalization, stigma and just a lack of information," he said. "It's hard to maintain a clinical practice while also teaching and doing research, but I'm really trying to blend those worlds. I want to support generations of mental health providers that can have medically accurate, culturally-responsive sex therapy and sex education conversations with their clients. That's the goal."

Camarena is completing his first year as a tenure-track faculty member at SDSU, where he teaches in the Community-Based Block multicultural community counseling master's program, but he is far from a new face. He spent 17 years as a lecturer and previously served as director of SDSU's Center for Community Counseling and Engagement.

Camarena's research focuses on QTBIPOC communities and he is currently writing the first book on Latinx sex therapy. He also serves as a volunteer at the nation's only free summer camp for trans and gender-diverse youth.

"This is a great next step and hopefully I'll have a bigger platform to encourage other folks to come along on this journey," Camarena said.