An Eager Helper, Haine-Schlagel Named Associate Dean for Research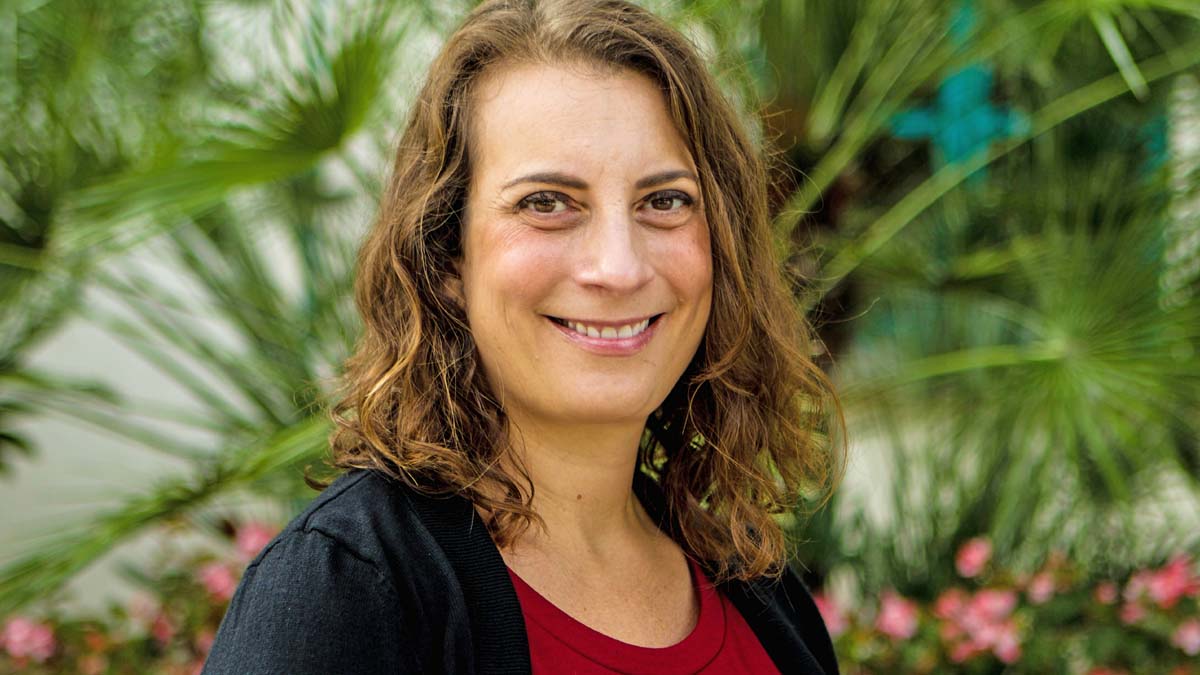 As an undergraduate student with dreams of becoming a child psychologist, Rachel Haine-Schlagel initially saw research as a hurdle she needed to clear — a prerequisite for entering a Ph.D. program. That all changed while completing her honors thesis, as she studied how parents impact the formation of memories in young children.
The work fascinated her. Soon, what once was merely a prerequisite became a passion.
"Research started out as a means to an end, but it became something where I enjoyed the means on their own," Haine-Schlagel recalls. "I enjoyed the idea of inquiry, of creating generalizable knowledge and of sharing that knowledge."
Two decades later, the enjoyment hasn't waned for the San Diego State University associate professor. And the path has taken her to exciting new heights.
In January, Haine-Schlagel assumed the role of associate dean for research in the SDSU College of Education. She was elevated to the permanent post — a half-time appointment, split with her faculty role in the Department of Child and Family Development (CFD) — after serving for a year-and-a-half in an interim capacity.
"Rachel is an excellent candidate who has unquestionably proven herself in the role," said Y. Barry Chung, dean of the College of Education. "She has been a valued member of my leadership team, and I am delighted her vision will continue to guide our research endeavors."


Building on Success
Haine-Schlagel's appointment comes at a pivotal time for SDSU's research enterprise, as the university stands on the cusp of attaining R1 university status, a Carnegie Foundation classification that denotes very high research activity. During the 2021-2022 academic year, the College of Education secured $26 million in grant funding — a 39% increase from the previous year.
"I'm blown away by the research in this college," said Haine-Schlagel, who recently launched the COE Connections podcast series to highlight the research and scholarship of college faculty.
"When I think about our quality of teaching — which is exceptional — and then look at the type and amount of work our faculty and students do, and the community impact that work has, it's just tremendous. "
An expert in child mental health services, Haine-Schlagel certainly possesses the experience to build on that success. She has served as an investigator with the Child & Adolescent Services Research Center (CASRC) since 2006 and was hired by the SDSU Research Foundation in 2010 before joining the faculty of CFD in 2015. She has authored 47 peer-reviewed publications and served as principal investigator (P.I.) or co-P.I. on projects garnering more than $11 million in external funding.


Focused on Helping
Haine-Schlagel, who coordinated COE's Faculty Mentoring Program from 2019-2021, said she would like to serve faculty as an advocate and problem solver — acting as a liaison between faculty researchers and partners such as the SDSU Research Foundation. She also welcomes informal conversations with faculty to discuss challenges they face during the grant-writing process.
Furthering research opportunities for COE graduate students is another top priority. Haine-Schlagel plans to host forums with students during Spring semester to better understand their challenges and aspirations.
"As a trained clinical psychologist, I've spent my entire education and career really focused on helping others," Haine-Schlagel said. "I derive great satisfaction from helping colleagues in their professional capacities and am grateful for the opportunity to do so in this role."