Postdoc Brings Research Expertise and Mentorship to RES-ISTE Team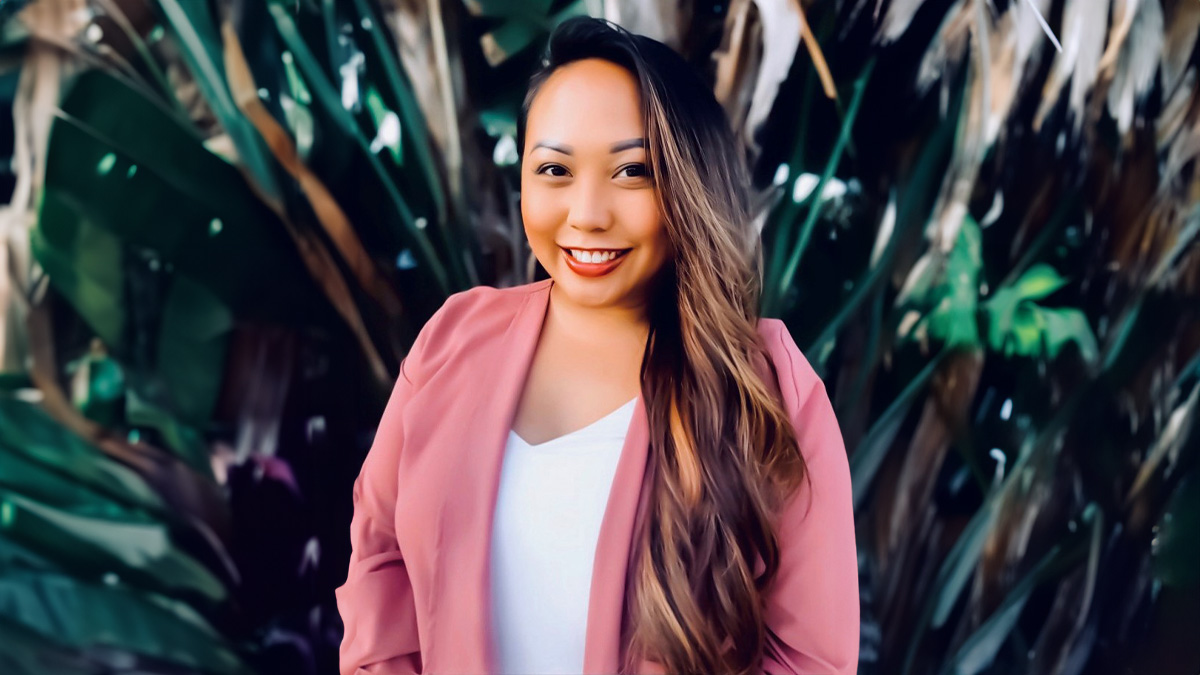 For Victoria C. Rodriguez-Operana servingness research is one of the key contributions of her work as a postdoctoral fellow for SDSU's Research and Equity Scholarship Institute on Student Trajectories in Education (RES-ISTE).
Rodriguez-Operana describes servingness as multidimensional, involving everything they do to intentionally serve and support minoritized students.
"One of our key contributions to servingness is through the work that we do in collaboration with our research team at RESISTE," she said. "We are constantly thinking about how we enact and carry out that servingness within our own space, that is situated within an HSI, in a region where all of our public colleges are either HSIs or emerging HSIs."
RES-ISTE brings together faculty and scholars to advance the understanding of educational trajectories from diverse racially minoritized backgrounds and leads several national efforts focused on HSI STEM pathways. Rodriguez-Operano, alongside professor Felisha Herrera Villarreal, the director of RES-ISTE, co-leads the teams implementing large-scale research for over $14 million in NSF-funded projects.
A Scholar and a Mentor
Herrera Villarreal speaks highly of Rodriguez-Operana and described her as an innovative scholar. She also highlighted Rodriguez Operano's numerous publications in their field's most highly regarded journals.

Rodriguez-Operana has also been a strong mentor to three postdoctoral, five doctoral, five masters, and ten undergraduate researchers, including serving as an official co-mentor for several SDSU Summer Undergraduate Research Program (SURP) participants.

"She has been instrumental in advancing the institute's efforts to develop the next generation of HSI and STEM education scholars through a collective mentorship structure across undergraduates, graduate students, postdoctoral scholars, and faculty," said Herrera Villarreal.

"The immense impact of her mentorship is evident with her mentees earning SDSU research awards , as well as national-level honors, with SURP mentees earning research recognition from the Society for Advancement of Chicanos and Native Americans in Science," Herrera Villarreal added.

Said Rodriguez-Operana: "This is one of the most important contributions of my work at the institute — continuing to provide those research opportunities for students," she said. "There's a lot of good work being done, but there could be more. There aren't enough spaces that are centering the identities, experiences and the knowledge of minoritized students."
Personal Journey
Rodriguez-Operana is a first generation college graduate, who described going to college as a "collective dream" of her and her family. She is the granddaughter of Filipino and CHamoru families who arrived in San Diego via service in the U.S. Navy and were supportive of her academic aspirations.

"My parents and grandparents really sacrificed a lot so that their families could have better lives," she said. "These sacrifices really afforded me the privilege to be able to seek out higher education and pursue a career that I am passionate about."

Rodriguez-Operana's interest and experience in research started when she was an undergraduate psychology student at UCSD. At 18 years old she was a full time student working 30 to 40 hours a week.

For her, experiential learning and undergraduate research played a key role in her academic and career trajectory. It was through her experience working in a cognitive psychology and neuroscience lab where she connected with other women of color and a postdoctoral researcher who encouraged her to present at the Stanford Undergraduate Psychology Conference.

These early experiences, which fueled her passion for engaging in research, led Rodriguez-Operana to apply for the Psychology Honors program at UCSD where she connected with her faculty mentor professor Michael Cole. While conducting research in afterschool programs in Southeast San Diego, she decided to explore graduate programs that were at the intersection of her interests in psychology, education,and human development. This led Rodriguez-Operana to the Human Development and Psychology Division Education at UCLA, where she earned her master's and Ph.D.

During her graduate studies, alongside her advisor professor Rashmita Mistry and other scholars, she had the opportunity to contribute to projects that focused on children's understanding of economic and social inequality, as well as other research projects that covered early childhood, middle school, highschool and community college students' experiences and outcomes spanning the educational trajectory.

In her dissertation, Rodriguez-Operana focused on examining the racialized and schooling experiences of Filipina/x/o adolescents, with a specific emphasis on how their social identities, and relationships with family, peers, and teachers shaped their academic and psychological adjustment.

After completing her dissertation, Rodriguez-Operana's goal was to return to San Diego, where she and her partner could be close to their families.

It also furthered her goal of contributing to education through research and teaching in ways that center the identities and experiences of minoritized students like her.

"Taking on the role of postdoctoral research fellow at RES-ISTE allowed me to come back home," Rodriguez-Operana said. "It afforded me the opportunity to do important education research that centered the communities that I grew up in."