Student Spotlight: Where Wetlands Protection and Social Justice Intersect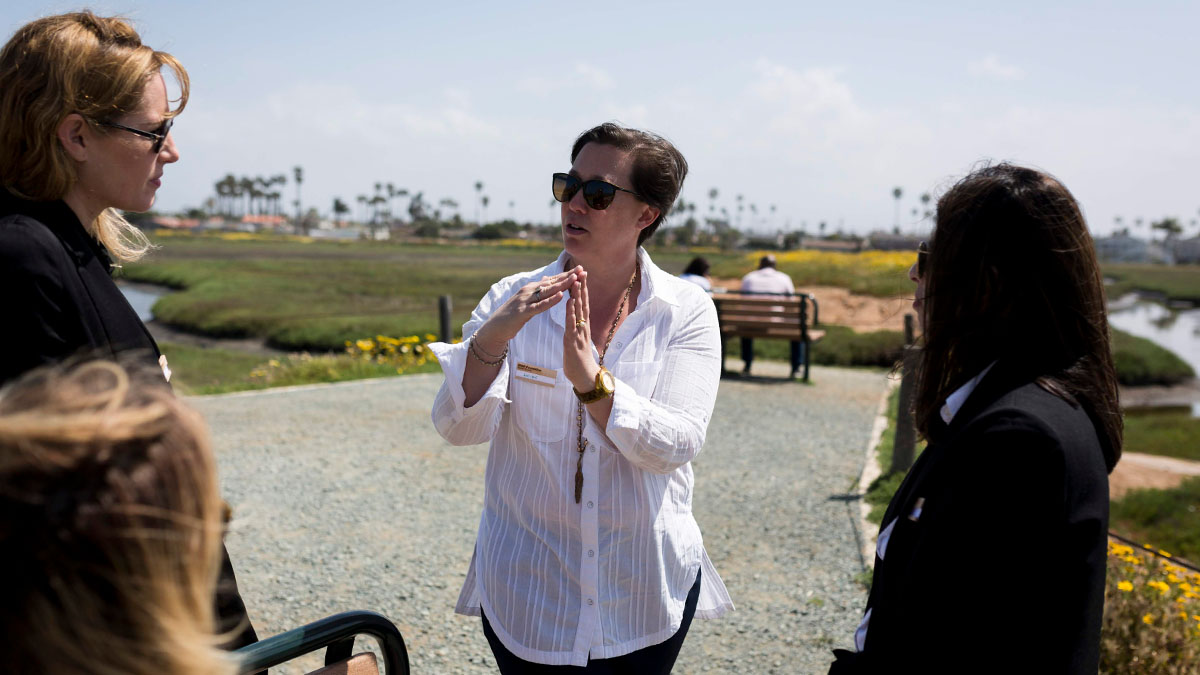 It's natural to wonder how an environmental professional working at a coastal research reserve would find herself immersed in the Community-Based Block (CBB), San Diego State University's multicultural community counseling and social justice education master's program.
To Kristen Goodrich — coastal training program coordinator at the Tijuana River National Estuarine Research Reserve and a proud CBBer — the connection is clear as day.
"We're focused on wetlands protection and restoration, but we're doing so in this big urban setting surrounded by the cities of Tijuana, Imperial Beach and San Diego," Goodrich said. "Our approaches need to think a lot about how we engage the community in developing solutions."
Goodrich already holds a Ph.D. from UC Irvine in social ecology, which explores the relationship between people and their environments.
She's now in her 14th year at the Tijuana River reserve — one of 30 sites in the National Oceanic and Atmospheric Administration's National Estuarine Research Reserve System. In her position, she provides coastal decision-makers with science-based information related to environmental management issues.
"My work is about environmental protection, but at the same time we have to think about the human dimension," Goodrich explains. "At the research reserve, we like to advance co-benefits: how can we protect places, but at the same time protect people? How can we be in more of a reciprocal relationship?"
That's what got her interested in the CBB program, which focuses heavily on social justice and cultural competence. For most CBB students, the ultimate goal is a career as a licensed professional clinical counselor; for Goodrich, it's also about applying the same principles to her current field.
As she wraps up her first year of the two-year program, Goodrich is particularly fascinated by the concept of collective care as an enabling condition for navigating unprecedented change. And she's eager to discover new ways her work can help more and more people. Currently, her CBB counseling fieldwork placement is with a community counseling center called Urban Restoration, whose vision is to make mental health a normal conversation for BIPOC communities. The significance of the center's name and work she has been doing for most of her career in the environmental realm is not lost on her.
"I'm learning a lot about different ways that healing can occur and the shapes it can take," Goodrich said. "There's significant trauma — particularly in the context of the border region. What I'd like to do is use some of these skills I'm learning to think about ways that we can leverage the research reserve as a place that provides opportunities for healing the environment, ourselves and each other."
"Re-imagining and applying ways to meet the needs of communities that have been marginalized is something that's really important to me and essential for equitable climate change adaptation."
Goodrich's immersion in the CBB program certainly hasn't slowed her environmental leadership.
She spent spring break on Capitol Hill in Washington, DC, with the reserve system's non-profit organization, meeting with much of California's congressional delegation to educate them on the positive impact of the National Estuarine Research Reserve System and how federal funding can make the system's programs more responsive.
"Because of the bipartisan infrastructure law and inflation reduction act, we're seeing more investments than we've ever seen in the environmental realm," Goodrich said. "Our elected officials need to make really hard decisions about where that money is going to go, so it's important for us to convey the kinds of work we're doing on the ground and the direct benefits to environmental and community health.
"It's really about trying to effectively convey the research, community needs, and the urgency."
As Goodrich attests, those things are inextricably connected.