Child & Family Development Student Organization (CFDSO)
Clubs & Organizations
The Child and Family Development Student Organization (CFDSO) provides SDSU students the opportunity to work with high-risk children and families in diverse settings.
Students provide outreach and support to the community through volunteer activities and fundraisers. Students have the opportunity to socialize in an informal setting with like-minded students and professionals in the field and to attend educational symposiums and conferences.
CFDSO provides a forum for the exchange of knowledge, opinions, and ideas on topics relevant to child and family studies.
We are open to all students from any major at SDSU. We also welcome students from local community colleges who plan on transferring to SDSU!!!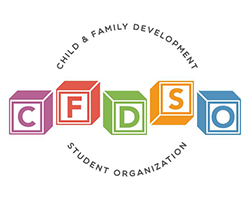 Meetings
The CFDSO meets twice a month. Meeting times and club events will be posted on the CFDSO Facebook page and emailed to everyone on our contact list.
Fall 2022: Bi-weekly meetings TBA
So what are you waiting for? Come to our next meeting or event and help make a difference in a child's life!
Contact Us
Get updates about what we are doing: