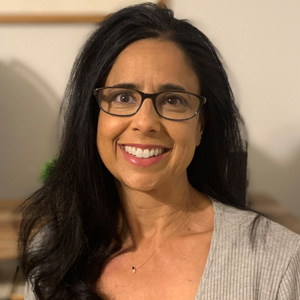 Katina Lambros, Ph.D.
Associate Professor
Counseling and School Psychology
San Diego
Email

Phone

Location

NE-194

Mail Code

1179

Fax

619-594-7025
Bio
Dr. Katina Lambros, PhD, BCBA-D, is an Associate Professor at San Diego State University in the Department of Counseling and School Psychology. She is a School Psychologist and a Board Certified Behavior Analyst specializing in ecobehavioral assessment-intervention for academic and socio-emotional problems in school-aged populations.
Dr. Lambros directs Project BEAMS-Behavioral, Emotional and Mental Health Supports in Schools: Collaborative Practices to Improve Special Educator & School Psychologist Training, a 5-year $1.25 million dollar grant funded by the Office of Special Education. This project co-trains school psychologists and special educators to serve diverse students with behavioral, emotional, and mental health challenges in California's public schools. She also serves as the VCS of the approved BCBA course sequence in school psychology (sequence #4487).
Dr. Lambros's research to date focuses on three broad areas: (1) improving mental health services and positive behavioral support in schools with an emphasis on students with emotional and behavioral difficulties; (2) promoting the use of evidence-based practices and data-based decision making in schools; and (3) increasing access to school-based service use and culturally responsive services for diverse learners.
Publications
Paz, J. L., Lambros, K.M, & Lewis, S. (2021). Strengths-based approaches for assessing student well-being. In K. A. Allen, A. Reupert, & L. Oades (Eds.), Building Better Schools with Evidence-based Policy: Adaptable Policy for Teachers and School Leaders. New York, NY: Routledge. https://www.taylorfrancis.com/books/oa-edit/10.4324/9781003025955/building-better-schools-evidence-based-policy-kelly-ann-allen-andrea-reupert-lindsay-oades?refId=632274ab-eee7-4293-bb4a-6c1366715472
Krier, J. & Lambros, K.M. (2020). Increasing Joint Attention and Social Play through Peer Mediated Intervention: A Single Case Design. Psychology in the Schools. https://doi.org/10.1002/pits.22460
Ingraham, C. L., Paz, J. L., Lambros, K. M., Green, T. D. (2019). Multicultural supervision in school psychology: Innovations in training, approaches, and implementation. The Trainers' Forum.
Miller, A., Green, T., & Lambros, K.M. (2019). Foster parent stress: The need for systemic support and self-care. Children and Youth Services Review. DOI: 10.1016/j.childyouth.2019.01.014.
Yeh, M., Lambros, K.M., Tsai, K. H., Zerr, A., Trang, D., McCabe, K. & Ganger, W. (2019). Multistakeholder Etiological Explanation Agreement and Adolescent/Parent Treatment Engagement. Journal of Clinical Child and Adolescent Psychology, DOI: 10.1080/15374416.2018.1520120
Edwards, N., & Lambros, K.M. (2018). Video self-modeling as a reading fluency intervention for Dual Language Learners with disabilities. Contemporary School Psychology, 22(4), 468-478. DOI 10.1007/s40688-018-0207-9
Gamble, B. E., & Lambros, K.M (2018). School-Based Mental Health Provider Perspectives on Social Capital Networks. American International Journal of Humanities and Social Science, 4(1), 7-14.
Lambros, K.M., Kraemer, B., Wager, DJ., & Culver, S, Angulo, A & Saragosa, M. (2016). Students with dual diagnosis: Can school-based mental health services play a role? Journal of Mental Health Research in Intellectual Disabilities, 9(1), 3-23. DOI:10.1080/19315864.2015.1091055