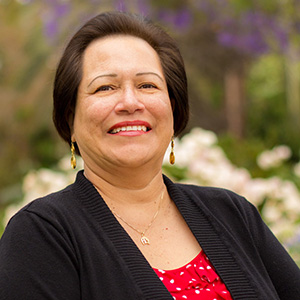 Patricia Lozada-Santone, Ph.D.
Assistant Dean of Student Affairs & CFD Lecturer
Dean's Office
San Diego
Email

Phone

Location

LH-346

Mail Code

1154

Fax

619-594-7082
Bio
Dr. Patricia Lozada-Santone has focused her research efforts on the application of social learning theory to issues in education and health care, health promotion and disease prevention. She has over 30 years of working experience in the field of Public Health and Education; she has received numerous awards, locally, nationally and internationally, for her contributions to minority health and education programs and outstanding service to public health and education. She serves on many State and National Boards and does consultant work for State and Federal Agencies such as the United States Information Agency Bureau, CDC, NCI, & NIH and Latin American Countries. Dr. Patricia Lozada-Santone was named Assistant Dean for Student Affairs in the College of Education at SDSU in December 2001.
Her areas of expertise include teacher education, urban education, public health education and leadership. During her twenty years at SDSU, Dean Lozada-Santone has developed collaborations with local schools, school districts, and community agencies. As the Assistant Dean for Student Affairs, Dr. Lozada-Santone's primary responsibilities are to "help students deal with issues that interfere with their academic progress." She listens to students to assess what is hindering them from succeeding academically and then helps them find the assistance and resources they need to resolve issues. Dr. Lozada-Santone has had a long-standing commitment to the development of diverse underrepresented students. She has long been involved with programs that promote academic excellence among students who come from underrepresented and educationally disadvantaged backgrounds. Dr. Lozada-Santone is also the Director of the College of Education's Global/Cultural Experience Program. In this position, Dr. Lozada-Santone oversees the creation of a range of international experiences that reflect the fundamental educational goals and objectives of the college. The experiences will facilitate students' development of the knowledge, skills, and level of cultural awareness that will prepare them for global citizenship in the twenty-first century.