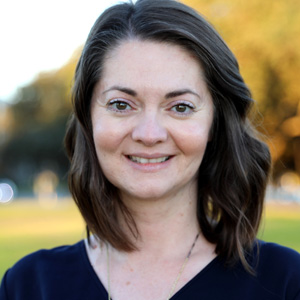 Vanja Lazarevic, Ph.D.
Associate Professor
Child and Family Development
San Diego
Email

Location

LH-411

Mail Code

4502

Fax

619-594-5921

Links
Bio
Professional Biography
Dr. Lazarevic is an Associate Professor with the Department of Child and Family Development. Prior to coming to SDSU, Dr. Lazarevic was a postdoctoral research fellow in Psychology at the Refugee Trauma and Resilience Center at Boston Children's Hospital/Harvard Medical School. She received her Ph.D. in Human and Community Development from the University of Illinois at Urbana-Champaign. Dr. Lazarevic's research broadly centers on marginalized populations. More specifically, she is interested in understanding family dynamics, development, and health in the context of immigration and acculturation, and exploring the elements that may serve as protective factors for immigrant and refugee youth and their families. Given that various aspects of young individuals' development are impacted by personal (e.g., their native culture, relationships with parents) and contextual (e.g., host culture, discrimination, social support) factors, she examines how these various domains contribute to development, health, and positive wellbeing of immigrant and refugee youth.
Areas of Specialization
Health and Well-Being of Marginalized Youth (Adolescents and Young Adults) and their Families;
Impact of Immigration and Acculturation on Immigrant and Refugee Families;
Stress and Protective Factors that Contribute to Health and Well-bring of Immigrant Refugee Families;
Contextual Factors that Impact Individual Development and Family Processes;
Mechanisms by which Social Networks and Community Bonds Contribute to Positive Outcomes
Courses
Courses Taught:
CFD 335: Interactions in Culturally Diverse Families
CFD375C: Human Development and Learning: Adolescence/Adulthood
CFD 537: Child Abuse and Family Violence
Education
Postdoctoral Research Fellow in Psychology, Refugee Trauma and Resilience Center, Boston Children's Hospital/Harvard Medical School
Ph.D., Human and Community Development, University of Illinois Urbana-Champaign
M.S., Human and Community Development, University of Illinois Urbana-Champaign
B.A., Psychology, Marquette University
Publications
*Indicates a student co-author

Guan, S. A., Weisskirch, R. S., & Lazarevic, V. (2020). Context and timing matter: Language brokering, stress, and physical health among young adults. Journal of Immigrant and Minority Health. doi: 10.1007/s10903-020-00989-5

Lazarevic, V., *Crovetto, F., Shapiro, A. F., & *Nguyen, S. (2020). Family dynamics moderate the impact of discrimination on wellbeing for Latino young adults. Cultural Diversity and Ethnic Minority Psychology. doi: 10.1037/cdp0000344

Lazarevic, V., *Toledo, G., & Wiggins, J. L. (2020). Influences of maternal ethnic identity on internalizing symptoms in children. Journals of Experimental Psychopathology. doi: 10.1177/2043808719898024

Weisskirch, R. S., Guan, S. A., & Lazarevic, V. (2020). The role of attachment in language brokering and well-being among college students. Journal of Family Issues. doi: 10.1177/0192513X20910763

Lazarevic, V., *Crovetto, F. & Shapiro, A. (2018). Challenges of Latino young men and women: Examining the role of gender in discrimination and mental health. Children and Youth Services Review, 94, 173-179. doi: 10.1016/j.childyouth.2018.10.006

Lazarevic, V. (2017). Effects of cultural brokering on individual wellbeing and family dynamics among immigrant youth. Journal of Adolescence. 55(1), 77-87. doi: 10.1016/j.adolescence.2016.12.010

Ellis, B. H., Abdi, S., Lazarevic, V., White, M., Lincoln, A., Stern, J., & Horgan, J. (2016). Delinquency, gang involvement, support for violent extremism, and civic engagement: Understanding how social context relates to diverse behavior and attitudes among Somali refugees. American Journal of Orthopsychiatry, 86(4), 393-408. doi: http://dx.doi.org/10.1037/ort0000121

Lincoln, A., Lazarevic, V., White, M. T., & Ellis, B. H. (2016). The impact of acculturation style and acculturative hassles on the mental health of Somali adolescent refugees. Journal of Immigrant and Minority Health, 18(4), 771-778. doi: 10.1007/s10903-015-0232-y

Lazarevic, V., Holman, E. G., Oswald, R., F., & Kramer, K. (2015). Effects of economic wellbeing on the life satisfaction of LGBT individuals in a non-metropolitan sample. Journal of Family and Economic Issues. Published online first. doi: 10.1007/s10834-015-9464-1

Lazarevic, V., Raffaelli, M., & Wiley, A. (in press). Language and non-linguistic brokering: Diversity of experiences of immigrant young adults from Easter Europe. Journal of Comparative Family Studies.

Kam, J. A., & Lazarevic, V. (2014). Communicating for one's family: An interdisciplinary review of language and cultural brokering in immigrant families. Communication Yearbook, 38, 3-38.

Kam, J. A. & Lazarevic, V. (2013). The stressful (and not so stressful) nature of language brokering: Identifying when brokering functions as a cultural stressor for Latino immigrant children in early adolescence. Journal of Youth and Adolescence. Published online first. doi: 10.1007/s10964-013-0061-z.

Kang, H. & Lazarevic, V. (2013). Exploring adolescent-parent relationships in Asian American immigrant families: An ecological perspective. Child Studies in Diverse Contexts, 3(2), 105-122.

Raffaelli, M., Lazarevic, V., Koller, S., Nsamenang, A. B., & Sharma, D. (2013). Introduction: Special issue on adolescents in the Majority World. Journal of Research on Adolescence. 23(1), 1-8. doi: 10.1111/jora.12000

Lazarevic, V., Wiley, A., & Pleck, J. H. (2012). Associations of acculturation with family and individual wellbeing in Serbian refugee young adults in the United States. Journal of Comparative Family Studies, 43(2). 218-236.

Raffaelli, M., Tran, S. P., Wiley, A. R., Galarza-Heras, M., & Lazarevic, V. (2012). Risk and resilience in rural communities: The experiences of immigrant Latina mothers. Family Relations, 61, 559-570. doi: 10.1111/ j.1741-3729.2012.00717.x

Oswald, R. F., & Lazarevic, V. (2011). You live where?! Lesbian mother's attachment to non-metropolitan communities. Family Relations, 60(4), 373-386. doi: 10.1111/j.1741-3729.2011.00663.x

Oswald, R.F., Cuthbertson, C., Lazarevic, V., & Goldberg, A. E. (2010). New developments in the field: Measuring community climate. Journal of GLBT Family Studies, 6(2), 214-228. doi:10.1080/15504281003709230