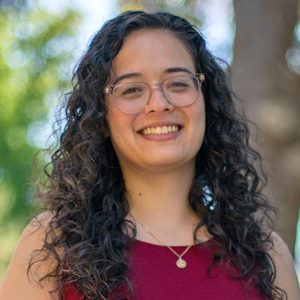 Wendy Ochoa, Ph.D.
Pronouns: (she/her/hers)
Assistant Professor
Child and Family Development
San Diego
Email

Location

LH-400C

Mail Code

4502
Bio
Wendy Ochoa (she/her/hers), Ph.D. is an educational researcher who is committed to promoting the wellbeing of ethnoracially minoritized young children from low-income households, particularly those who are identified as Latine. To that end, her research agenda involves two lines of interrelated inquiry that intentionally use strengths-based and culturally informed frameworks to: 1) understand how parents' background characteristics, such as their socioeconomic status, language(s) they speak, race/ethnicity and gender, relate to their experiences raising their young children in the United States, and 2) examine the factors that relate to the bilingual language development and classroom engagement of Dual Language Learners (DLLs).
Dr. Ochoa earned her Ph.D. in Education with a focus on Human Development in Context from the University of California, Irvine. She then went on to receive postdoctoral training at the Human Development and Child Study Department of Tufts University.
Dr. Ochoa is a proud daughter of Spanish-speaking, Mexican immigrant parents whose sacrifice, hard work, and knowledge afforded her the opportunity to be the first in the family to attend college. As a California State University of Los Angeles (CSULA) alumni, she is also committed to supporting students navigate and thrive in higher education institutions. For fun, Dr. Ochoa enjoys spending time with her family and friends, as well as jogging, watching TV and novelas, and listening to scary stories from Latin America.