Christopher R. Brum, Ph.D.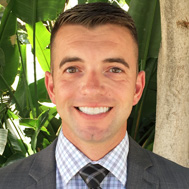 Assistant Professor
Special Education
Contact
Dr. Chris Brum began his career as a special education teacher for Boston Public Schools and eventually received his doctorate in Curriculum and Instruction with focus on Special Education from Boston College. He was selected for a doctoral fellowship with the National Leadership Consortium on Sensory Disabilities (NLCSD). NLCSD, an Office of Special Education Programs (OSEP) funded personnel preparation program, sponsored thirty scholars from across the nation in the areas of deafness, blindness and deafblindness for doctoral studies and an on-going enrichment program. Dr. Brum's areas of interest include deafblindness, low-incidence disabilities, autism, literacy instruction and communication development. Currently, Dr. Brum is working as a Site Coordinator and Literacy Coach for the Center on Secondary Education for student with Autism Spectrum Disorder (CSESA), as well as researching how literacy can support communication development for individuals with congenital deafblindness.
Boston College, Chestnut Hill, MA
Ph.D. Curriculum & Instruction, Special Education/ Deafblindness
Sep. 2010 - Aug. 2016
M.Ed. Severe Disabilities/ Deafblindness
Passed Master's Comprehensive Examination with Distinction
Apr. 2007 - Dec. 2008
Northeastern University, Boston, MA
B.S. Psychology
Minor in Biology and coursework in Physical Therapy
Sep. 2001 – Apr. 2005
Selected Publications

Bruce, S., Sacks, S., &

Brum, C.

(2016). Assessment of students who have visual impairments and additional disabilities. In S. Sacks and M. Zatta (Eds.), Keys to Educational Success: Teaching Students with Visual Impairments and Multiple Disabilities. New York: AFB Press.
Bruce, S.,

Brum, C.,

& Nannemann, A. (2015). Communication programming implications for individuals with genetic causes of severe disability and visual impairment. Perspectives on Augmentative and Alternative Communication, 24, 94-105.