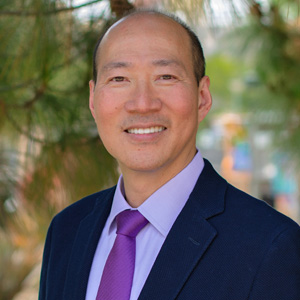 Y. Barry Chung, Ph.D.
Dean
Dean's Office
San Diego
Email

Phone

Location

LH-346

Mail Code

1154

Fax

619-594-7082
Bio
A native of Hong Kong, Y. Barry Chung received his A.M. and Ph.D. in counseling psychology from the University of Illinois at Urbana-Champaign, and his B.A. in educational psychology and counseling from the National Taiwan Normal University. Prior to his appointment as Dean of the College of Education at SDSU in 2018, he was Associate Dean for Graduate Studies in the School of Education at Indiana University Bloomington. He also served as Department Chair at Northeastern University, and Professor and Program Director at Georgia State University.
Dr. Chung's research interests include career development, multicultural counseling, and sexual orientation and gender diversity issues. He has presented and published widely on these topics. He was appointed to 10 journal editorial boards internationally, and was Executive Editor of the American Psychological Association (APA) Division 44 Book Series. Dr. Chung was President of the National Career Development Association, Society of Counseling Psychology, and Council of Counseling Psychology Training Programs. He has also served on APA's Board of Educational Affairs, Board for the Advancement of Psychology in the Public Interest, Membership Board, and Finance Committee. Currently he is an elected member on the APA Council of Representatives. Dr. Chung is a Fellow of APA (Divisions 17, 44, 45, and 52), Asian American Psychological Association, and National Career Development Association.