Internship Frequently Asked Questions
College of Education Office for Student Success
What is an Internship Teaching Credential?
The Internship Teaching Program is an alternative pathway to earning a California Teaching Credential. When fully certified teachers are not available, school districts often search to hire individuals who are admitted to or have partially completed a credential program that are intern eligible.
An internship provides the opportunity for candidates to obtain their credential by taking courses and student teaching while they are working as full-time teachers. Interns receive their paycheck for teaching and support from the school district and the university.
If you are interested in the internship program option, you are responsible for securing an intern contract from an employer that has a formal internship agreement with San Diego State University, College of Education.
The internship option is only available in the following programs:
Preliminary Education Specialist Mild to Moderate Support Needs (formerly Mild/Moderate)
Preliminary Education Specialist Extensive Support Needs (formerly Moderate/Severe)
Preliminary Education Specialist Early Childhood
How do I qualify to the Education Specialist Internship Credential?
To be eligible for the Education Specialist internship credential, you must be admitted to SDSU Preliminary Education Specialist Credential Program and meet ALL the following requirements outlined below.
Complete all program prerequisite coursework or preservice preparation for intern. Depending on your education specialist specialization, please refer to the program prerequisite course list for more information.
Meet the Basic Skills requirement (i.e., pass CBEST or its equivalents)
Possess Fingerprint Clearance (i.e., Certificate of Clearance or valid CTC Permit)
Meet Subject-Matter Competency (multiple options are available)

option 1 via MS-CSET or its equivalent
option 2 via Single Subject CSET exams in any currently approved statutory single subject areas or its equivalent.

For example: Art, Agriculture, Business, English, Social Science, Science, World Language, Mathematics, Foundational Level Math, Music, Physical Education, Music, Theater, Dance, Industrial and Technology Education

Meet the U.S Constitution requirement via exam or course. (If you have a Bachelor's degree from a CSU, you already have fulfilled this requirement.)
Secure a job offer as an intern from an employer that SDSU has a formal agreement with (MOU agreement). You can only be an intern if such a formal agreement has been created and approved by the Special Education Department. For more questions regarding current internship MOUs, please contact the Special Education Department. Please visit the Special Education Advisor webpage and scroll down to the list of the designated Special Education Faculty Advisor (Mild to Moderate Support Needs, Extensive Support Needs and Early Childhood Special Edu) for contact information and office hours.
Complete the Internship credential request form paperwork with the Office of Student Services at least 2-3 weeks prior to your first date of your internship assignment to ensure your internship credential can be processed and issued by the CA Commission on Teacher Credentialing. Your employer will need verification of the internship teaching credential when you begin your intern assignment. Please refer to the intern application checklist on documents required to be submitted with your application.
Additional questions, contact your designated Credential Analyst for the Preliminary Education Specialist Credential Program -- Analyst Christie Pearson-Wohlwend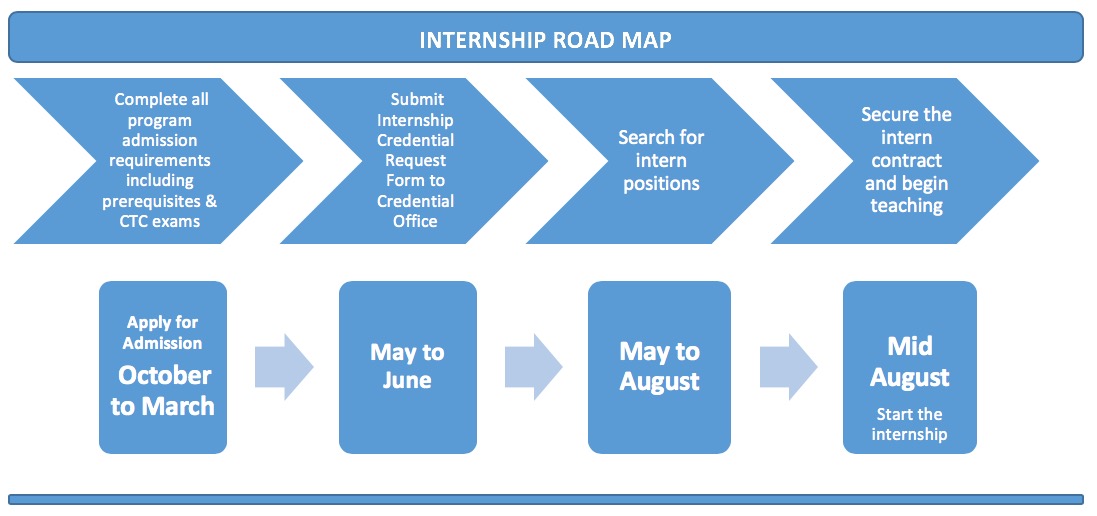 What are the requirements during the Internship Credential Program?
During the internship, all interns must maintain a cumulative GPA of 3.0 or above.
Intern is recommended to complete the program in 4 semesters instead of 2. Please consult your designated special education faculty advisor if you have any questions about your program sequence.
Each semester, all interns are required to take the Intern support course DLE925.
Each semester, all interns shall enroll in Sped970 or Sped980.
Interns must work with the District Support Provider to assure they are completing the Intern Supervision Hours Log.
Interns must notify the Special Education Department and the credential office when there is a change in the intern teaching assignments.