Frank Harris, III, Ed.D.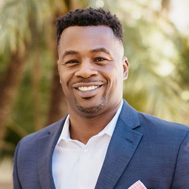 Professor
Administration, Rehabilitation, and Postsecondary Education
Contact
Lamden Hall
Room 225A (LH-225A)
Mail Code: 1127
Fax: 619-594-0991
Wood, J. L., Vasquez Urias, M., & Harris III, F. (2016). Establishing a research center: The minority male community college collaborative. New Directions for Institutional Research, no. 168, 65-77.
Harris III, F., Wood, J. L., & Newman, C. (2015). An exploratory investigation of the effect of racial and masculine identity on focus: An examination of White, Black, Mexicano, Latino, and Asian men in community colleges. Culture, Society, & Masculinities, 7(1), 61-72.
Harris III, F., & Wood, J. L. (2014). Community college student success inventory (CCSSI) for men of color in community colleges: Content validation summary. Community College Journal of Research and Practice, 1-8.