Sesen Negash, Ph.D., LMFT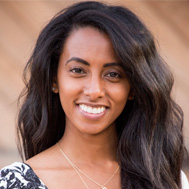 Associate Professor & Director, MFT Program
Counseling and School Psychology
Contact
Dr. Sesen Negash earned her PhD in MFT from Florida State University and her MA in child development and family studies with an emphasis is MFT from Purdue University Calumet.
Read More…
She is a practicing MFT Intern (IMF number 75312) under the supervision of Dr. Scott Woolley (License number 37622) in California, licensed MFT in Michigan (License 4101006574), and an Approved AAMFT Supervisor. Dr. Negash's research in the area of sexuality has been published in numerous journals within the field of MFT, psychology, and sexuality. Her work has also received national media mention (i.e., Men's Health, The Daily Beast, The New York Times, Business Insider, Network Radio, and GQ).
Personal Interests

Woodwork, ceramics, and frequenting coffee shops.
Recent Selected Journal Publications:

Van Ness Sheppard, N., Miller, M.,

Negash, S., & Morgan, M. (2017). Embracing our eroticism: A foucauldian discourse analysis of women's eroticism.

Journal of Feminist Family Therapy.

Advanced online publication. doi: 10.1080/08952833.2017.1245062
Negash, S., Veldorale-Brogan, A., Kimber, S. & Fincham F. D. (2016). Predictors of extradyadic sex among young adults in heterosexual relationships: A multivariate approach.

Sexual and Relationship Therapy.

Advanced online publication. doi:10.1080/14681994.2016.1219334
Graham, S. M.,

Negash, S., Lambert, N. M., & Fincham, F. D. (2016). Problem drinking and extradyadic sex in young adult romantic relationships.

Journal of Social and Clinical Psychology, 35, 152-170.
Negash, S., & Morgan, M. L. (2016). A family affair: Examining the impact of parental infidelity on children using a structural family therapy framework.

Contemporary Family Therapy, 38, 198-209. doi: 10.1007/s10591-015-9364-4
Negash, S., Nalbone, D. P., Woods, S., Wetchler, J. L., & Fontaine, K. L. (2015). Intimacy in the midst of caregiving: Examining relationship and sexual satisfaction of parents raising children with special needs.

Journal of Family Psychotherapy. 26, 190-209. doi:10.1080/08975353.2015.1067532
Negash, S., Van Ness Sheppard, N., Lambert, N.M., & Fincham, F. D. (2015). Trading later rewards for current pleasure: Pornography consumption and delay discounting. Journal of Sex Research. 53, 689-700. doi:10.1080/00224499.2015.1025123
Negash, S., Cui, M., Fincham F. D., & Pasley, K. (2014). Extradyadic involvement and relationship dissolution in heterosexual women university students.

Archives of Sexual

Behavior, 43, 531-539. doi: 10.1007/s10508-013-0213-y
Dr. Negash's program of research examines:
the interpersonal implications of certain sexual behaviors (i.e., pornography, cybersex, and sexual/emotional infidelity) on monogamous dating relationships;
the health implications of at risk-sexual behaviors for monogamous couples;
romantic relationships among previously incarcerated men and their partners;
and access to therapy among immigrants/refugees couples.
Volunteer, International Refugee Committee and Volunteers of America
Board Member, American Association for Marriage and Family Therapy-California
Member, National Council on Family Relations
Member, Society for the Scientific Study of Sexuality.