Alison Sternal, M.A.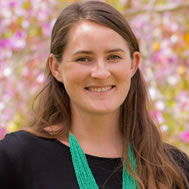 Community College Outreach & Undergraduate Advisor, CFD & LS
Office for Student Success
Contact
Alison joined SDSU as a staff member in 2015, having previously earned her multiple subjects teaching credential and master's degree in K-8 Mathematics Education right here in the College of Education. She started out as program coordinator for the Joint Doctoral Program in Education and the Math/Science Teacher Initiative. As a result, she is passionate about teacher preparation, STEM education, and educational equity.