Garrett Bose, M.A.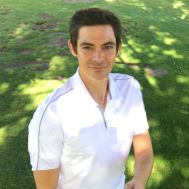 Lecturer
Dual Language and English Learner Education
Contact
Garrett Bose, an ASL professor at SDSU, is a New Orleans native grew up with use American Sign Language as he was taught by his parents who learned it right after his birth. Garrett Bose has a passion for making video arts in sign language. This lead him to getting a BA in Digital Arts and an MA in Sign Language Education. He believes that ASL makes Deaf people human by giving full access to communication. Also, he believes that the classroom should be a place where learning is fun. Kudos to the power of language!
Garrett Bose also serves on the board of San Diego ASL Teachers Association and as well as public relation for other various sign language organizations by producing videos for their sign language communities.