Sera Hernandez, Ph.D.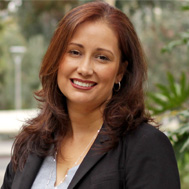 Assistant Professor
Dual Language and English Learner Education
Contact
Language Policy and Practices (DLE 601)
Multilingual Education: Theory and Practices for Biliteracy Teachers (DLE 515)
Biliteracy: Teaching Language Arts (DLE 532)
Skills Teaching Literacy to Bilingual Elementary Students (DLE 931)
Skills in Teaching Literacy in the Secondary Bilingual Classroom (DLE 933)
ELD/SDAIE Methodology in the Content Areas (DLE 915)
2013 Ph.D.Language, Literacy & Culture in Education, University of California, Berkeley
Hernandez, S. (2015). In what ways can school policies limit the authentic involvement
of English language learners'/emergent bilinguals' parents, and how can this be addressed? In G. Valdés, K. Menken, & M. Castro (Eds.), Common Core, bilingual and English language learners: A resource for educators (pp. 95-96). Philadelphia, PA: Caslon.
Baquedano-López, P., Hernandez, S., & Alexander, R. A. (2014). Thinking through the de colonial turn in research and praxis in Latina/o parent involvement: Advancing new understandings of the home-school relation. In P.R. Portes, S. Salas, P. Baquedano López, & P. Mellom. (Eds.), U.S. Latinos and education policy: Research-based directions for change (pp. 16-34). New York: Routledge.
American Educational Research Association
American Anthropological Association
California Association of Bilingual Education
International Literacy Association