Svenna Pedersen, M.A.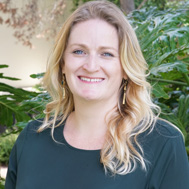 ASL Coordinator and Lecturer
Dual Language and English Learner Education
Contact
Svenna Pedersen is a native Deaf American Sign Language (ASL) professor at several universities and colleges including, San Diego State University (SDSU) under the Dual Language of English Learners Education (DLE) Department. She also teaches at Gallaudet University, Mesa Community College, Grossmont College, and Southwestern College. She received her masters degree from Gallaudet University in Deaf Studies with the concentration in ASL Teaching. She teaches all levels of ASL and Deaf Culture courses. She also oversees the ASL proficiency assessment for SDSU students, for more information you can email her at [email protected].
Read More…
In the past, Svenna has worked at Salk Institute's Laboratory of Cognitive Neuroscience with Dr. Ursula Bellugi and team as a researcher. She also was a family educator for Deaf children and families, taught ASL to Deaf children from the toddlers to 12th grade age groups in the field of Deaf education. She also was one of the Early Childhood Literacy consultant for one of the Visual Language and Visual Learning's storybook apps, The Baobab.
Outside of SDSU, Svenna also has served on the board of the San Diego chapter of the American SIgn Language Teachers Association (SD-ASLTA). In addition, she is currently a member of the American Sign Language Teachers Association (ASLTA), National Association of the Deaf (NAD) and Deaf Women United organization (DWU).
DLE 101: American Sign Language Level One (Face to Face and Online courses)
DLE 102: American Sign Language Level Two (Face to Face and Online courses)
DLE 201: American Sign Language Level Three (Face to Face and Online courses)
MA

in

Deaf Studies

, with an emphasis on

American Sign Language Teaching

,

Gallaudet

University ,

Ma

y 200

7

.
Bachelor of Arts,

Communication Studies

,

Gallaudet University

, May

2005




Online DEFT Teaching Credential, Southwestern College, 2018

American Sign Language Proficiency Interview, Score 4+, 2016

California Subject Examination for Teachers Single

Subject World Languages: American Sign Language

, 2014
Corina D, Pedersen S, Farnady C, Rogalsky C, Hickok G, Bellugi U (2015). Limb Apraxia in American Sign Language. Society for Neurobiology of Language, Chicago, IL.

Hickok G, Farnady C, Corina D, Pedersen S, Bellugi U (2015). Effects of Age on Sign Span in Deaf Signers: A Normative Study. Psychonomic Society, Chicago, IL.

Pedersen S, Farnady L,

Blau S,

Bellugi U,

Corina DP, Hickok G (2015). Visual and

Linguistic Errors in an American Sign Language (ASL) Naming. Cognitive Neuroscience Society

Annual Meeting, San

Francisco, CA.

Corina DP, Pedersen S, Farnady L,

Rogalsky C, Bellugi U, & Hickok G (2014). Effects of Subcortical Lesions on the Production of American Sign Language. Cognitive Neuroscience Society

Annual Meeting, Boston, MA.

Limb Apraxia in American Sign Language. Cognitive Neuroscience Society, San Francisco, 2015

Implementing ASL and Deaf Culture in your Identity

.

Deaf Counseling Advocacy and Referral Agency, California

, 2013

American Sign Language and Fingerspelling. California School for the Deaf, Fremont, 2011

Having a Conversation with your Deaf Child. California School for the Deaf, Fremont, 2011