Laura J. Hall, Ph.D., BCBA-D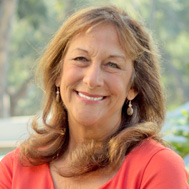 Professor & Chair
Special Education
Contact
Laura J. Hall began her work as an educator working for the Princeton Child Development Institute shortly after graduation. The excellent training and coaching in the implementation of applied behavior analysis with learners with autism that she received from Drs. Krantz, McClannahan and Fenske inspired her to pursue further education. Under the supervision of Dr. Beth Sulzer-Azaroff she completed her dissertation focused on assisting parents of young children with disabilities incorporate educational activities into ongoing routines. It was meeting international students at UMass that fostered the realization about the importance of obtaining a global perspective. Dr. Hall completed a post-doc position at the Universite Catholique de Louvain, Belgium in 1990. She then moved to Melbourne, Australia where she was a tenured faculty member in the Disability Studies Department at Deakin University until 1998.
Read More…
Her work at SDSU incorporates a focus on the areas she finds most important. She is teaching special educators to work with learners with disabilities, she is the International Programs Coordinator for the College of Education and she works with M.A. Degree candidates to complete research projects and develop their skills as leaders in their work with students with autism spectrum disorders. Her current research focus is on identifying strategies to improve the educator-learner interaction to increase effective implementation of evidence-based practices. She recently published a text that describes practices used with learners with autism spectrum disorders that identifies those strategies with research support. She works in collaboration with colleagues in the department, colleagues in the community, including parents of students with ASD, and, most importantly, new colleagues or graduates of the M.A. Degree program with a specialization in autism that she worked to establish at SDSU. This Masters Program in Autism is currently supported by federal grants from the Office of Special Education Programs. She is also the department liaison with the Behavior Analysis Certification Board.
Ph.D. (1988) Educational Psychology, Developmental Disabilities Training Program, University of Massachusetts, Amherst. Clinical Minor in Family Therapy.
M.S. (1981). Expressive Therapy. Lesley College, Cambridge, MA.
B.A. (1979). Rutgers University, New Brunswick, NJ.
Selected Publications

Kraemer, B. K., Odom, S. L., Tomaszewski, B., Hall, L J., Dawalt, L, Hume, K. A., Dykstra-Steinbrenner, J., Szidon, K., & Brum, C. (in press). Quality of secondary school programs for students with autism spectrum disorder in the United States, Autism,
Steinbrenner, J., Odom, S. L., Hall, L. J., & Hume, K. (in press). Moving beyond fidelity: Assessing implementation of a comprehensive treatment model for adolescents with autism spectrum disorder [Special Section]. Exceptional Children,

Brum, C., Hall, L. J., Reutebuch, C., & Perkins, Y. (in press). Reading comprehension strategies for high-school students with autism spectrum disorder. Teaching Exceptional Children,

Odom, S. L., Hall, L. J., & Suhrheinrich, J. (2019). Implementation science, behavior analysis and supporting evidence-based practices for individuals with autism. European Journal of Behavior Analysis, DOI: 10.1080/15021149.2019.1641952

Carter, E., Steinbrenner, J., & Hall, L. J. (2019). Exploring feasibility and fit: Peer- mediated interventions for high school students with autism spectrum disorders. School Psychology Review, Special Issue, 48, 157-169.

Hall, L. J. & Odom, S. L. (May, 2019). Deepening supports for teens with autism. Educational Leadership, 76 (8), online exclusive www.ascd.org.

Hall, L. J., Leinert, S., & Jacquez, J. (2018). A review of social skills manuals for adolescents with autism spectrum disorder. Invited contribution. Current Developmental Disorders Reports.5, 77-88.

Hall, L. J. (2015). Sustaining evidence-based practices by graduated special educators of students with ASD: Creating a community of practice. Special Issue: Teacher Education and Special Education, 38, 28-43.

O'Hara, M., & Hall, L. J. (2014). Increasing engagement of students with autism at recess through structured work systems. Education and Training in Autism and Developmental Disabilities, 49, 568-575.

Bonggat, P. W., &

Hall, L. J.

(2010). Evaluation of the effects of sensory integration-based intervention by a preschool special education teacher. Education and Training in Autism and Developmental Disabilities, 45, 294-302.
Hall, L. J.,

Grundon, G. S., Pope, C., & Romero, A. B. (2010). Training paraprofessionals to use behavioral strategies when educating learnerswith autism spectrum disorders across environments. Behavioral Interventions, 25, 37-51.
Odom, S. L., Boyd, B. A.,

Hall, L. J.

& Hume, K. A. (2010). Evaluation of comprehensive treatment models for individuals with autism spectrum disorders. Journal of Autism and Developmental Disorders. 40, 425-437.
Hall, L. J.

(2009). Autism spectrum disorders: From theory to practice. Upper Saddle River, NJ: Merrill Prentice Hall.
Lamers, K., & Hall, L. J. (2003). The response of children with autism to preferred prosody during instruction. Focus on Autism and Other Developmental Disabilities, 18 (2), 95-104.
Hall, L. J.

& Strickett, T. (2002). The peer relationships of preadolescent students with disabilities who attend a separate school. Education and Training in Mental Retardation and Developmental Disabilities, 37, 399-409.
Hall, L. J.

& McGregor, J. A. (2000). A follow-up study of the peer relationships of children with disabilities in an inclusive school. The Journal of Special Education, 34, 114-126