Former JDP Director Rafaela Santa Cruz Leaves a Lasting Legacy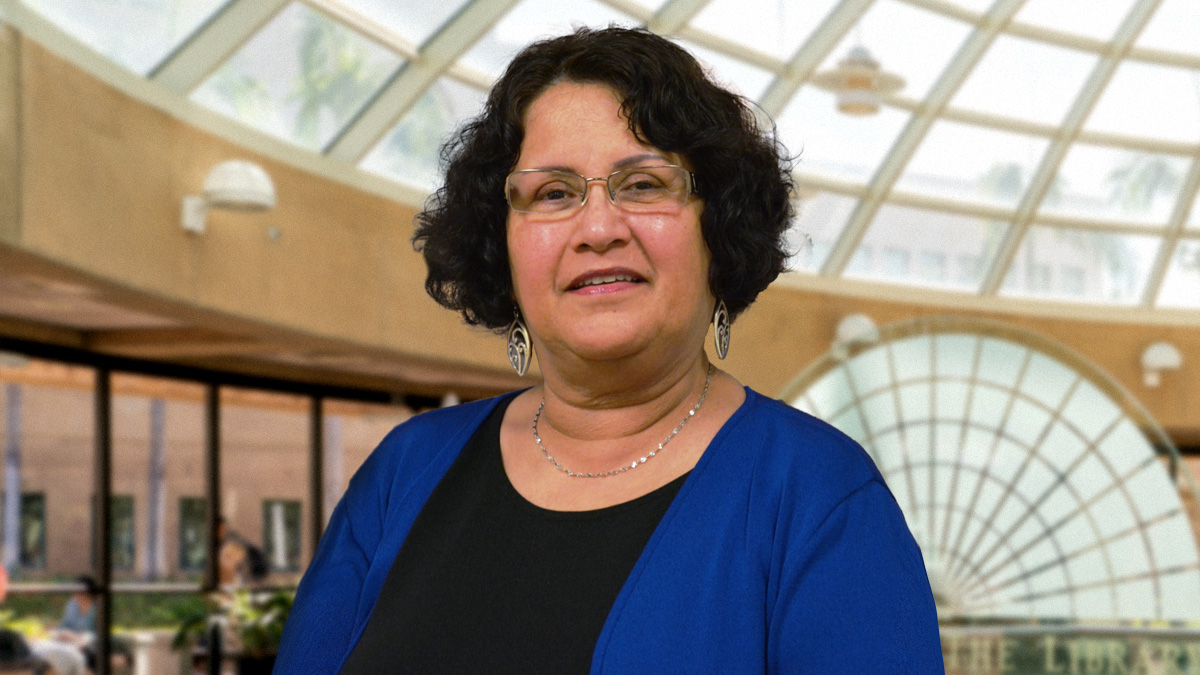 In a corridor of Lamden Hall, just outside the office of the Joint Ph.D. Program in Education (JDP) between San Diego State University and Claremont Graduate University, is a graphic that's impossible to miss. Hanging in a display case is a postered map of the U.S., showing the location of JDP graduates who have attained higher education faculty positions.
The alumni span from coast to coast and beyond.
"I think you can see the pride I take in the program in that map," said Dr. Rafaela Santa Cruz, who commissioned the graphic in her final year as JDP director in 2019. "It's had a great impact on not only higher ed, but also with other entities such as community service organizations and nonprofits. We also have a good history of diversity, so it's provided access to diverse populations to acquire a Ph.D."
Santa Cruz is a pivotal figure in helping to put the JDP on the map as a top program for producing scholars committed to democratic schooling, social justice and educational equity. A professor of mathematics education at SDSU for more than 40 years, Santa Cruz is the JDP's longest-serving director, guiding the program from 2005-2016 and again on an interim basis from 2018-19.
Recently, Santa Cruz decided to leave yet another lasting impact on the program, making a generous gift to endow the Santa Cruz Family Scholarship. The scholarship is estimated to award one student $1,000 per year in perpetuity.
Honoring transformative leaders
This is the second scholarship to support JDP students, after the Dr. Peggy Hawley Scholarship, which honors the program's founding director. As director, Santa Cruz had helped facilitate the establishment of that endowment. Now she says she's honored to have her legacy of leadership recognized alongside Hawley's.
"This very generous donation is only part of the legacy of support Dr. Santa Cruz has bestowed on the Joint Doctoral Program in Education," said Dr. Marva Cappello, current director of the JDP. "Her mentorship and innovative thinking have benefited our graduates, current students and doctoral faculty alike."
In making the gift, Santa Cruz said she wanted to show her appreciation for Cappello, whom Santa Cruz praises for her research acumen, equity-mindedness and caring leadership.
"I love Marva and I want to support her," Santa Cruz said. "I've supported the Ph.D. program with small amounts before and also her Center for Visual Literacies. But I thought the scholarship would help our students directly."
Commitment to diversity
Of particular importance to Santa Cruz is the JDP's commitment to diversity and success in providing a welcoming and supportive pathway to a Ph.D. for people of color.
"You can't put a price on it," she said. "When I first started at SDSU, I would have students come up to me and say 'You're the first Latina professor I've ever seen.' I remember having a couple of doctoral students in the JDP who ended up with a (dissertation) committee with all diverse faculty members or all women. They just felt a great sense of support and identity — identifying with people on the committee.
"I think that's very important. Since I've left, Marva has really pushed the diversity and equity issues, so I think the program is in really good shape right now."
Gifts of all amounts influence student and faculty success. To learn more about making a difference through philanthropy, please contact Megan Beardsley, director of development, at [email protected] or 619-594-2277.