Frank Harris III Reflects on Faculty Honor, Sets Sights on Interim DEI Post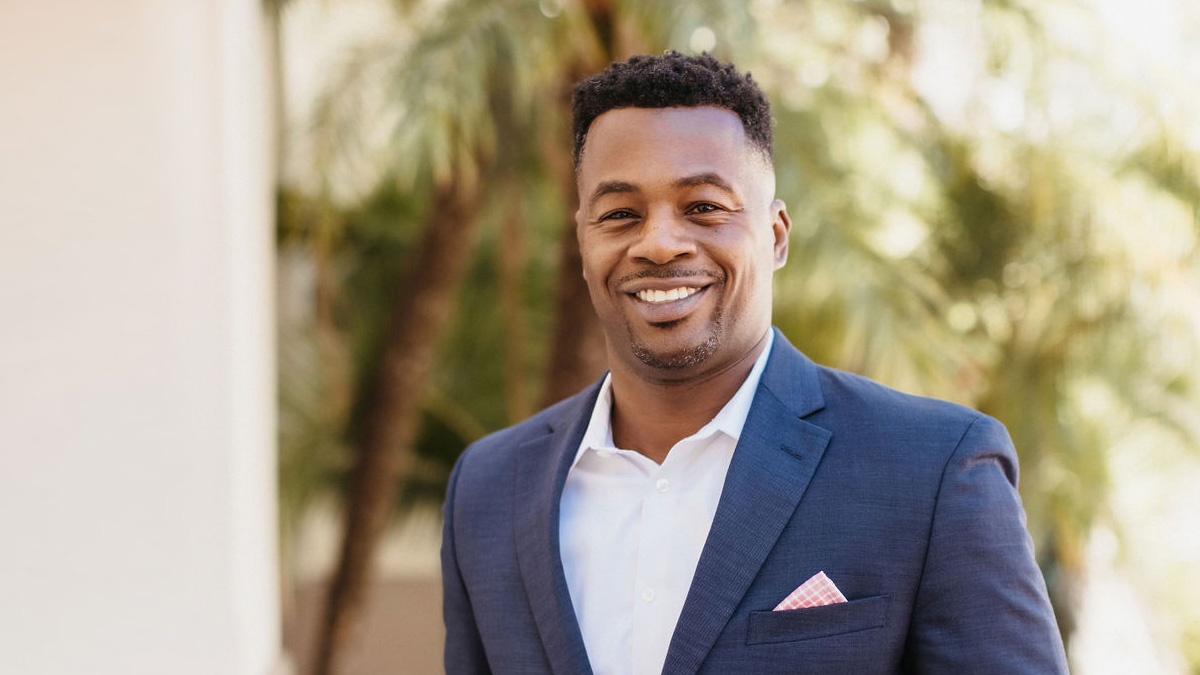 As the new school year approaches, Frank Harris III is about to take center stage in the College of Education.
First, he's set to be honored on a literal stage during All-University Convocation as the College of Education's recipient of the Alumni Association Award for Outstanding Faculty Contributions. It's a prospect that Harris admits is somewhat anxiety-inducing.
"Whether it's this award or any award, I'm not really comfortable with it," Harris said. "It means a lot because someone took the time to nominate you, so I'm grateful to my colleagues who did that. But it also made me immediately think about all my colleagues who are so much more deserving."
Watch: Frank Harris III's Distinguished Alumni Award video.
His other big move — his appointment by Dean Y. Barry Chung as COE's Interim Associate Dean for Diversity, Equity and Inclusion (DEI) — is surely a more comfortable fit. After all, researching and navigating DEI issues in higher education has been his life's work.
The right time
As a professor in the Department of Administration, Rehabilitation and Postsecondary Education (ARPE), Harris' research has focused on rooting out racial inequity and furthering the success of underrepresented and underserved groups in higher education. He serves as co-director of the Community College Equity Assessment Lab (CCEAL), which works with community colleges to identify and address systemic barriers to equity at their institutions.
"I've been deeply engaged in DEI work for quite some time, but it's been mostly external," Harris said. "It's been working with other colleges and universities to try to help them make progress on these very important issues. But I think there comes a time when you've got to give back to your home college.
"When Dean Chung asked me if I would do it, I was deeply honored. It felt like the right time."
It's certainly an important time for DEI work in the college. COE recently finalized a Diversity and Inclusion Plan under the leadership of previous associate dean Cristian Aquino-Sterling, who over the summer accepted the position of Director of International Affairs for the college. Harris' top jobs will be putting that plan into action and helping individual departments advance equity at the unit level.
"That plan is going to be my guidepost and my road map in terms of determining my focus and how am I going to measure my success in this role," Harris said. "There's been some important work — a foundation that's been laid by Cristian Aquino-Sterling. Now I have some important work to do, but I'm very confident that I'll be able to get it done with the support of colleagues."
Early inspiration
Harris grew up in New Orleans and then Los Angeles, where he moved in high school. As an undergraduate at Loyola Marymount University, a faculty mentor guided him toward a career in higher education. After earning his master's degree at Cal State Northridge, Harris worked as a student affairs educator and college administrator for about a decade.
What pushed him toward academia, however, was the realization that interventions and services for underserved students were less important to advancing equity than dismantling systemic inequities within institutions.
"You learn pretty quickly that the students aren't the issue," Harris explains. "It's the institutions, the policies, the environment and the systems that the students are trying to navigate. So the real challenge is to change systems and institutions.
"That's where the real work happens."
Harris joined the ARPE faculty in 2007 after completing his doctorate at the University of Southern California. As he now receives the Outstanding Faculty honor some 15 years later, Harris expresses gratitude — particularly to the many community college and university leaders who have helped make his equity work possible.
"I'm not able to do anything without colleagues in the field, who have invited me into their homes in many cases, and allow me to work with them," Harris said. "Without them, there's not a platform to do the work. I also want to let them know that the lessons learned with them — struggling together through those issues at their institutions — they're going to inform how I go about the work in this new role."
This story has been updated to correct Cristian Aquino-Sterling's new role within COE.