Eric R. Felix Honored as Emerging Scholar by National Publication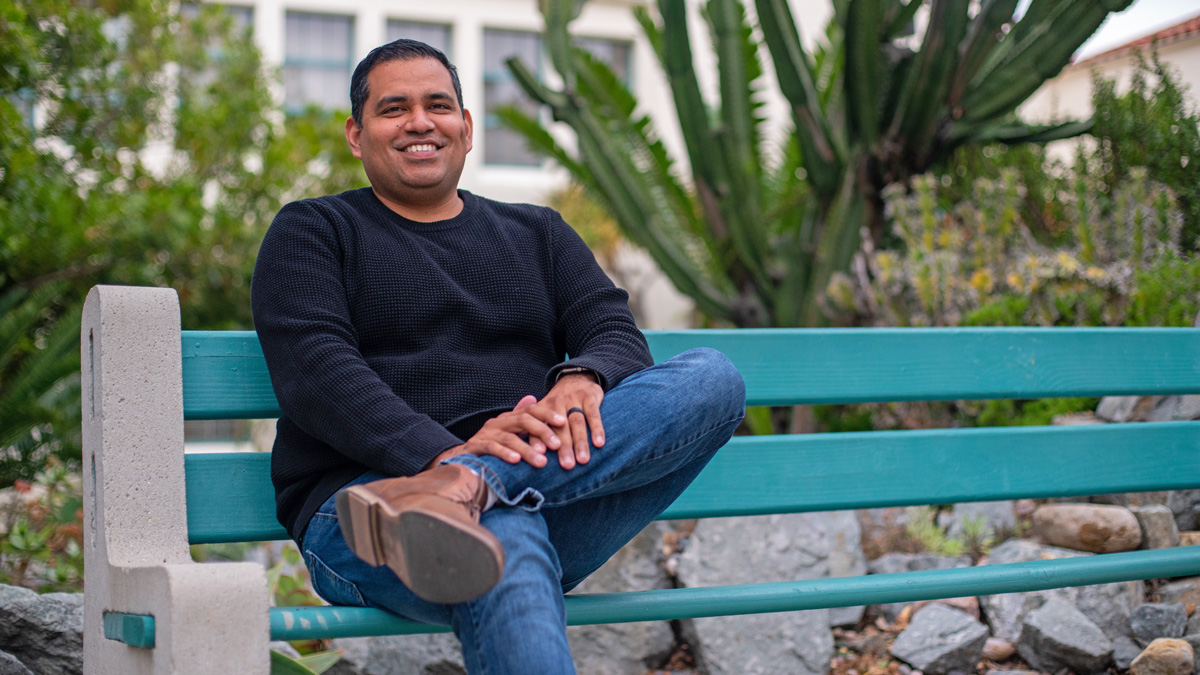 For Eric R. Felix ('10), being named a 2022 Emerging Scholar by the magazine Diverse: Issues in Higher Education is a significant achievement. The national publication's editorial team annually recognizes just 15 outstanding scholars under the age of 40 for their early-career impact.
But it's how the honor came about that gets the assistant professor in San Diego State University's Department of Administration, Rehabilitation and Postsecondary Education (ARPE) on the verge of tearing up.
It all started with his students. Felix, whose work focuses on advancing racial equity in higher education, was secretly nominated for the award by his team of graduate researchers.
"It affirms my approach to caring, mentoring and supporting graduate students," he said. "And it also serves as a catalyst to continue doing it. It's not a publication, it's not a grant, but you're really moving the field forward by supporting and caring for the next academics who will hopefully make higher education a better place."
Throughout the pandemic, Felix has focused on fostering community among the collective, hosting regular virtual meetings, offering up the use of a communal Starbucks card and even DoorDashing lunch to his mentees on special occasions.
"It's a space that affirms them," Felix explains. "It doesn't make them feel like they have to change who they are or tone down their identities and their background."
CCHALES also provides students opportunities to engage in research for the first time, present at conferences, make connections with other scholars and imagine new possibilities for themselves.
"The mentorship that Dr. Felix has provided to me has been phenomenal and rooted in care," said Laura Juarez, a graduate researcher and student in SDSU's postsecondary educational leadership-student affairs (PELSA) master's program.
"Dr. Felix has empowered me to seek new opportunities, advance my goals and step out of my comfort zone. His mentorship has made me feel seen, heard, validated and empowered."
Together with the CCHALES team, Felix works with four community college campuses across California to produce research aiming to instigate change in higher education. The ultimate goal is to dismantle barriers in policy and practice that limit educational success for racially minoritized students.
Felix studies ways community college practitioners can leverage new policies and funding initiatives to address racial equity. He also seeks to combat what he calls "race evasiveness" among administrators, who often prefer to take an all-students approach rather than addressing racial disparities head-on.
"There are a lot of barriers on campuses to thinking differently or going beyond maintaining the status quo," Felix said. "I work with leaders to build their competency, their capacity and their willingness to take on these efforts. We want to amplify them and not let the boldness of their racial justice ambitions dwindle down."
Felix's own experience growing up in Anaheim as the son of immigrants from Guatemala and Mexico inspires his equity focus.
As a promising high school student, he said he found himself tracked by his counselors into a career path as a receptionist — a common practice at a predominantly Latinx campus that sent more students to the military than four-year institutions. When he told them he dreamed of becoming a teacher, they suggested he practice his words-per-minute.
Fortunately, Felix's horizons were broadened by his participation in Upward Bound Math-Science, a federal program that prepares students from low-income families for college. That led him to California State University, Fullerton for his undergraduate degree, and eventually into the PELSA program at SDSU — the same program in which he now teaches.
At SDSU, mentors like Frank Harris III, professor in ARPE, motivated Felix to do something he'd never imagined for himself — pursue a doctorate and a career in academia.
"My office is now right next to Frank's here in Lamden Hall," Felix said. "It's really been a joy to come back to a space that I call home."
This is the second consecutive year that an SDSU faculty member has been honored as an Emerging Leader by Diverse: Issues in Higher Education.
Olivia Chilcote
, assistant professor of American Indian studies made the
2021 list
.
"Here at San Diego State, my motivation is that I'm just lucky to be in this position — to be among people who really want to make a difference," Felix said.