Meet the College of Education's New Faculty and Staff for Fall 2022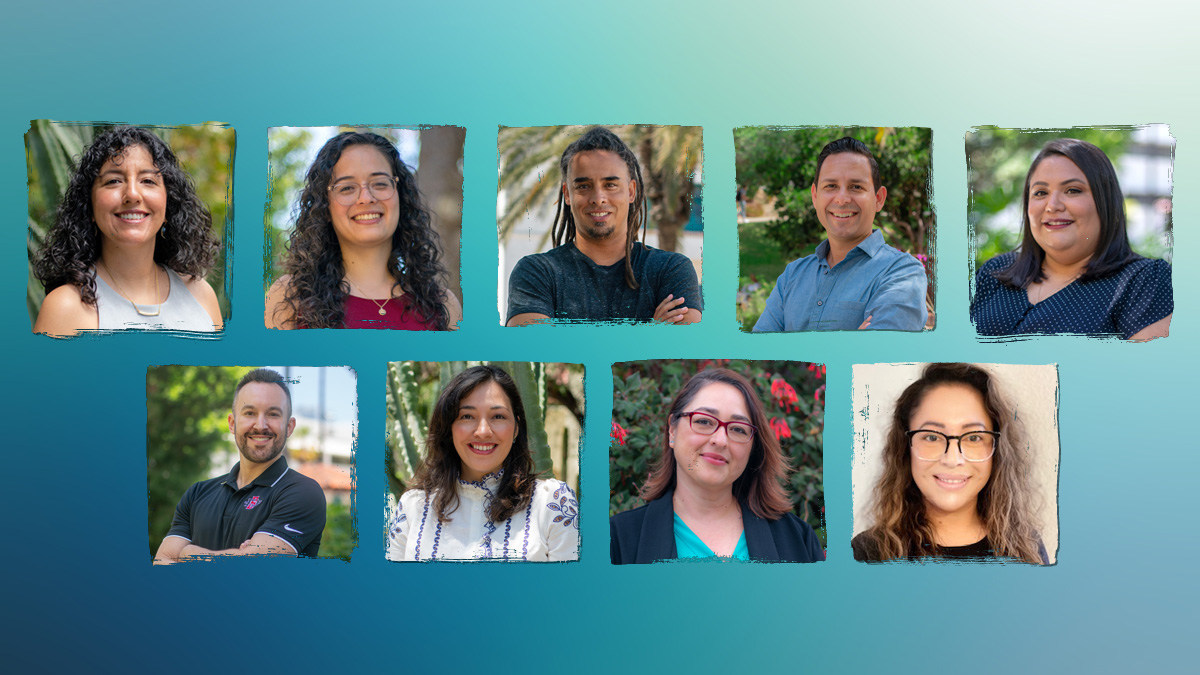 The College of Education is excited to welcome eight new tenured/tenure-track faculty and one new staff member joining us for the fall semester!
Faculty
Mónica Baldonado-Ruiz (She, Her, Ella)

Assistant Professor, School of Teacher Education
Mónica Baldonado-Ruiz is a veteran English educator who believes that the power of stories connects us to others around us. She has used her own voice as an advocate for students and to celebrate the communities of those students. Her research interests include literacy education, culturally-sustaining pedagogy, equitable practices of teaching writing and the Lat-Crit theory of education — specifically testimonio. A first-generation college-going student and an award-winning Ph.D. recipient, she is dedicated to cultivating literacy education that is more reflective for historically marginalized student populations.
As a teacher educator, she hopes to provide a sound pedagogical foundation for her students that is rooted in joy and an understanding of the complex and ever-diversifying U.S educational landscape. Mónica holds a Ph.D. in English education from Arizona State University, a master's degree in English from Northern Arizona University and a bachelor's in secondary education from the University of New Mexico. Her work in English education has been featured in the Explicator, by the National Writing Project, by the National Council of Teachers of English, in the Arizona English Teachers Journal, and in English Leadership Quarterly.
Mónica loves hiking with three year old Aussie. She is also the mother of three wonderful grown humans, two of whom are twins.
Juan Camarena (el, he, him, his)
Assistant Professor, Department of Counseling and School Psychology
Juan Camarena is a California Licensed Marriage & Family Therapist, Licensed Professional Clinical Counselor and nationally-certified Sex Therapist. Juan started his career as a therapist and educator in 2003 and has been a lecturer in the Department of Counseling and School Psychology for the past 18 years. He also provides psychotherapy at his independent practice with specialties in Latinx sex, Queer relationships and consensual nonmonogamy.
He has been passionate about experiential learning, social-justice focused research and combating marginalization via psychotherapy since receiving his master's degree in counseling from San Diego State University in 2003. He also earned a master's degree (2013) and doctorate degree (2016) in human sexuality from Widener University.
Juan is a Queer Chicano living with his husband and two dogs on the occupied land of the Kumeyaay nation, also known as San Diego, California.
Ana Dueñas (she/her/hers/ella)
Assistant Professor, Department of Special Education
Ana Dueñas is a Board-Certified Behavior Analyst (BCBA-D) who comes to SDSU from Lehigh University where she was an assistant professor. Ana earned a doctorate in special education from Michigan State University and a master's in autism and transition to adulthood from SDSU.
She has published her work in periodicals such as Exceptional Children, Autism, Journal of Autism and Developmental Disorders, Behavior Analysis Research and Practice, Journal of Special Education Technology, Education and Treatment of Children and Career Development and Transition for Exceptional Individuals. Her primary research interests are in identifying and validating social communication interventions delivered by natural change agents to individuals on the autism spectrum and related developmental disorders. She is also interested in the application of technology to broaden accessibility to services for underserved individuals on the autism spectrum and their families.
Ana is a first-generation Mexican immigrant. She identifies as transborder, having grown up in both Tijuana and San Diego. Her late father was featured in a KPBS documentary following the Immigration Reform and Control Act of 1986.
Tanya Gaxiola Serrano (she/her/ella)
Assistant Professor, Department of Administration, Rehabilitation and Postsecondary Education
Tanya Gaxiola Serrano is a queer first-generation Latina immigrant and college student from the Tijuana-San Diego borderlands. Her research explores the racialized and gendered experiences of Communities of Color when navigating education to expose the functions of oppression.
Currently, a large part of her research agenda focuses on the inequities faced by Latina/o/x students when navigating community college in the U.S.-Mexico border region. In 2019, Dr. Gaxiola Serrano earned her Ph.D. in education from the University of California, Los Angeles with a specialization in race and ethnic studies.
In her free time, she enjoys trying out new recipes, experiencing the outdoors, and relaxing with family and friends.
Travis Heath (he/him)
Associate Professor and Chair, Department of Counseling and School Psychology
Read our Q&A with Travis Heath.
Melina Melgarejo (she/her/hers)
Assistant Professor, Department of Dual Language and English Learner Education and Department of Special Education
Melina Melgarejo received her doctoral degree in education with an emphasis in special education, disabilities and risk studies from the University of California, Santa Barbara. She began her career as a clinical supervisor, working primarily with Latinx families of children with developmental disabilities. She completed a postdoctoral fellowship at SDSU and was also a lecturer in the SPED and CFD departments.
Melina is currently an investigator at the Child and Adolescent Services Research Center (CASRC) and serves on the executive leadership team for the California Autism Professional Training and Information Network (CAPTAIN), a statewide multi-agency collaboration of providers with the common goal of scaling up the use of evidence-based practices for individuals with autism. She specializes in improving intervention effectiveness and access for dual language learners with disabilities. Her research interests include implementation and cultural adaptation of evidence-based practices, serving culturally and linguistically diverse communities, forming community partnerships to facilitate change, early childhood education and autism.
In her free time, she enjoys traveling, live music, and spending time with her family and friends.
Wendy Ochoa (she/her/hers/ella)
Assistant Professor, Department of Child and Family Development
Wendy Ochoa received her Ph.D. in education with a specialization in human development in context from the University of California, Irvine. Her research primarily focuses on fostering the wellbeing of ethnoracially diverse young children, particularly low-income Latine children, by understanding and centering the developmental goals, childrearing experiences and knowledge of their parents.
Her goal of adopting a strengths-based lens when working with low-income, minoritized families was inspired by her lived experience of growing up in a low-income, Spanish-speaking immigrant home in Los Angeles. A first-generation college student and California State University alumna, Wendy is also committed to supporting students to navigate and thrive in higher education institutions.
For fun, she enjoys spending time with her family and friends, jogging, watching novelas and listening to scary stories from Latin America.
Vincent Pompei (he/him)
Assistant Professor, Department of Educational Leadership
Vinnie Pompei provides national leadership and expertise on policies and practices that create safe and equitable environments for marginalized student populations. He most recently served as the National Director of the Youth Well-Being Program and annual Time to THRIVE conference for the Human Rights Campaign, the nation's largest civil rights organization dedicated to LGBTQ equality.
He has authored numerous publications and is frequently invited to speak at national convenings advocating for identity-safe schools for all. He is currently on the Advisory Council for the American Counseling Association Foundation, is a member of the Advisory Committee for Safe and Supportive Schools at the California Department of Education, and sits on the Advisory Committee for the Safe and Supportive Schools Index at Equality California.
Vinnie has been acknowledged by the National Education Association as a Classroom Superhero, was one of the Advocate Magazine's Top 40 Under 40, and was honored by KPBS, the California PTA and Equality California for his dedication to creating safe and inclusive schools.
Staff
Dalia Corrigan (she/her)
Department Coordinator, Educational Leadership
Dalia Corrigan is an experienced administrative and philanthropic professional with over 15 years of experience in both nonprofit and for-profit organizations. Dalia, who holds a bachelor's degree in business administration from the University of Arizona, is driven by her passion to help others achieve their fullest potential.
A California native, she enjoys spending her free time exploring with her family and enjoying the various eateries Southern California has to offer. She is happy to be part of such a strong SDSU community.