Hernández Honored With Faculty Global Engagement Award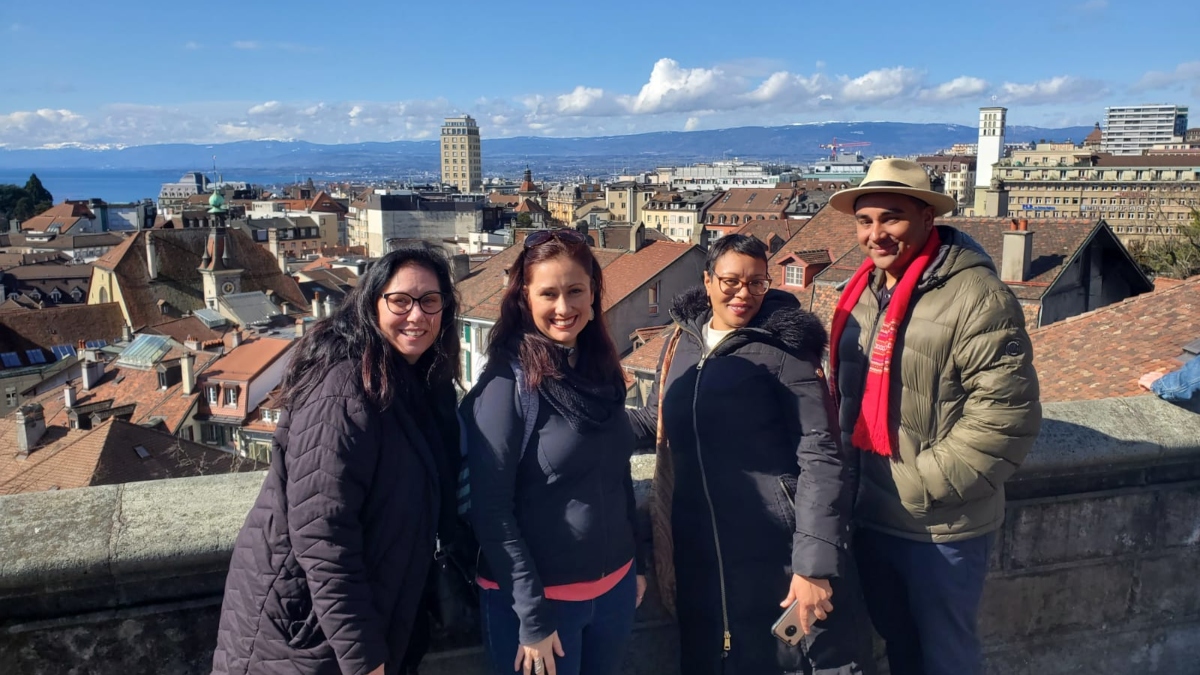 Sera Hernández's experience with international education as a student helped her reclaim a missing piece of her heritage — her Spanish language.
It's no coincidence that the associate professor in San Diego State University's Department of Dual Language and English Learner Education (DLE) has been a tireless champion for the importance of language, culture and global education throughout her career.
On Thursday, Hernández will receive the Outstanding Global Educator/Researcher Award during the SDSU's Faculty Global Engagement Symposium and Awards Ceremony. The event is part of International Education Week and the Re:Border Conference.
Hernández's motivation for her work spans generations.
Her father, a second-generation Mexican-American, was shamed for speaking Spanish in school. Her mother, a second-generation French-Canadian and Irish-American, never learned French because her French-speaking mother was told by the school not to speak French at home on the mistaken notion that it would impede her children from learning English.
As a result, Hernández was never taught either language in the home. Fortunately, a summer study abroad program in Cuernavaca, Mexico changed everything for her. The immersive experience allowed Hernández to begin reclaiming Spanish and helped kindle an interest in linguistic anthropology and language socialization.
"That's really my 'why' — we lost French and we lost Spanish," she said. "I've been reclaiming Spanish as a heritage language and I hope to reclaim French someday. But I believe in ensuring that individuals and communities understand what's at stake — especially in schools — when we don't value bilingualism and multilingualism.
"And we don't need to cross borders to value that."
But she does so often.
Hernández was nominated by colleagues at three escuelas normales — teacher training schools — in Baja California with whom she has collaborated for the past four years. The partnership started in 2018 with the launch of the Formadores de Docentes Project, a multi-institutional, binational effort to prepare educators to better understand and teach students who, because of migration in both directions, spend time in both U.S. and Mexican schools at various points in their schooling. DLE colleagues Cristina Alfaro and Saúl Maldonado also collaborated on the project.
The project produced a binational curriculum to support teacher educators focusing on how socio-political, social-linguistic, social-cultural and social-emotional issues impact these shared students and their families. Hernández is currently using her sabbatical to study how the curriculum is being implemented.
"We think that the more our teachers and teacher candidates think about these issues, the better prepared they will be to serve these students," she said. "This work is really at the heart of my global and binational perspective on education."
Hernández and her normalista colleagues are also currently collaborating on STEAM Sin Fronteras, a new project led by DLE assistant professor Melissa A. Navarro Martell to bring a binational perspective to the preparation of bilingual teachers in math and science education on both sides of the border. This involves joint learning opportunities with the teacher candidates we share in this border region.
Outside the U.S.-Mexico border region, Hernandez has been a faculty member in SDSU's bachelor's degree programs in the island nation of Palau. She worked to design three courses addressing key ideas around bilingual education research and policy — an offering that had been requested by students concerned about losing the Palauan language.
She has also helped lead master's and doctoral students abroad to study multilingual education through partnerships with universities in Lausanne, Switzerland and Oaxaca, Mexico.

"That's why DLE, and SDSU in general, is a great home for me," Hernández said. "We do this work to make sure that for our multilingual learners and immigrant communities, their languages and cultures are valued."