STUDENT SPOTLIGHT: Wendy Garcia Opens the Outdoors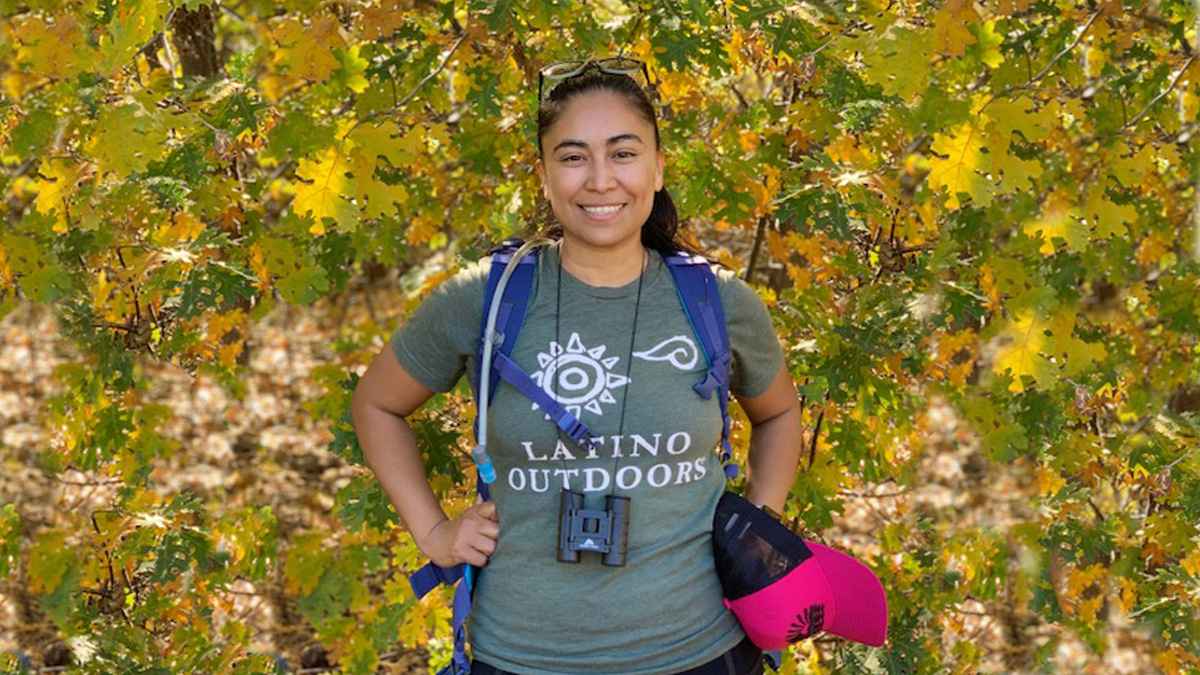 To many San Diegans, enjoying the outdoors is a natural part of life in this sun-drenched region. Yet not every community has been widely afforded the luxury of a beach day, a foraging walk or a sunset hike.
One San Diego State University doctoral student and local educator is looking to change that.
When she's not teaching 8th-grade math and science or pursuing her Ed.D. in Education Leadership as a Noyce Master Teaching Fellow, Wendy Garcia serves as program coordinator for the San Diego chapter of Latino Outdoors, an organization that works to empower the Latinx community to enjoy nature.
The importance of the work was underscored on a recent beach excursion to the Carlsbad area.
"Two of the participants were single moms," Garcia said. "They were really happy that we were able to show them where you can park, how you get there and what's the best beach you can go to. It was a lot of tiny things that we would take for granted, but they were really excited that they would know where to take their kids in the future.
"That's a big part of what we do — creating a safe, inclusive, welcoming space."
Garcia, who is of Mexican descent, was born and raised in San Diego's South Bay, close to where she now teaches at Nestor Language Academy. She says she didn't experience the outdoors much growing up.
Her love for nature stoked when an SDSU student teacher she was supervising invited her on some hikes. But when she sought out local hiking groups to keep up with the hobby, she said the lack of diversity made her feel like something of an outsider. Then, two years ago, she found Latino Outdoors while scrolling Instagram.
"I really felt like I belonged there," Garcia said. "I loved that feeling and I wanted to help share and create that feeling for other people as well."
The science teacher is also bringing a bit of classroom learning to the group. During a recent fungi walk, participants were supplied with microscopes for examining found mushrooms. Garcia also helps provide information about native plants and how those plants have been traditionally used by indigenous people.
In her professional life, the dual SDSU alumna ('05 Liberal Studies, '10 Master of Arts in Teaching) is also passionate about bringing a love for science, technology, engineering and mathematics (STEM) to young people in her home community.
"I think it's important for my students to see that it's not just male, light-skinned people in science and math," Garcia said. "I think that's really important — especially for my girls — to see that they can also have a place in the STEM world. Also, being from here, I feel like I can connect with them in a different way. I know a lot of what they might be going through and the neighborhoods that they live in.
"Being that role model for my students is something I don't take lightly."
Garcia said she developed her own spark for math and science as a student in her SDSU's master's program. She said professors Randy Philipp and Lisa Lamb changed the way she thought about how children learn math, inspiring her to turn her own classroom into a bustling place of exploration and sharing.
"I really try to make mathematics as enjoyable as possible and let students come to their own understandings — I facilitate and jump in when needed, but I won't tell them exactly how to solve a problem," she said. "I used to have a really quiet class where everyone was working. I used to think that was how your classroom was supposed to look. The (SDSU) program just brightened my classroom and my students seem to enjoy it a lot more."
Now, she's honing her teaching skills further as a Noyce fellow, part of a National Science Foundation (NSF)-funded program to boost math and science teaching in high-need schools. She's through two years of a five-year program, which includes working toward an Ed.D. in PK-12 Educational Leadership.
"Those first two years really flew by," she said. "Right now in my Ed.D. program, I'm really excited to work on my problem of practice and coming up with our research questions. So it's at the very beginning stages, but I'm still very excited. I can't wait to see what comes of it."